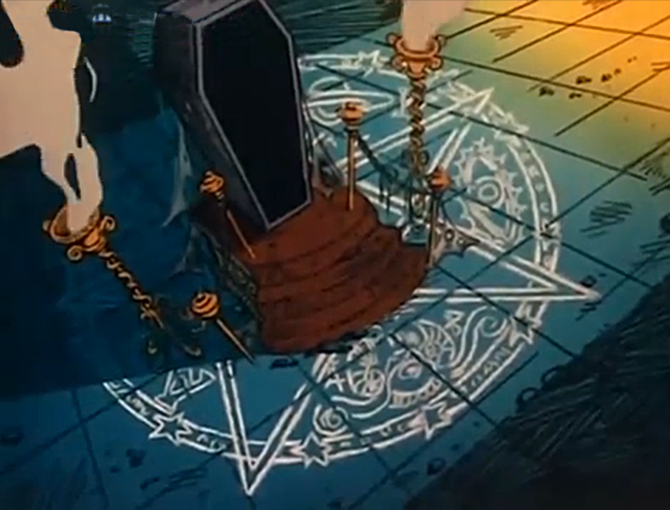 Scroll over to reveal pentagram.

Count Duckula (1988) Narrator: "Castle Duckula. Home for many centuries to a terrible dynasty of vicious vampire ducks. The counts of Duckula! Legend has it that these foul beings can be destroyed by a stake through the heart, or exposure to sunlight. This does not suffice, however, for they may be brought back to life, by means of a secret rite, that can be performed once a century when the moon is in the eighth house of Aquarius." Once again, a symbol that for centuries represented health and good fortune is identified with something vaguely sinister.
PENTAGRAM IN FILM | THE PENTAGRAM | POP PENTAGRAM INDEX | PENTAGRAM IN FREEMASONRY

Written by Jimmy Hibbert, directed by Chris Randall, produced by Brian Cosgrove, designer, Vincent James et al. Voices: Jack May, Brian Trueman, Jimmy Hibbert, David Jason, Barry Clayton. UK, Cosgrove Hall Films, Thames Television 22 min (65 episodes), Mono, Colour : English. [6 September 1988].