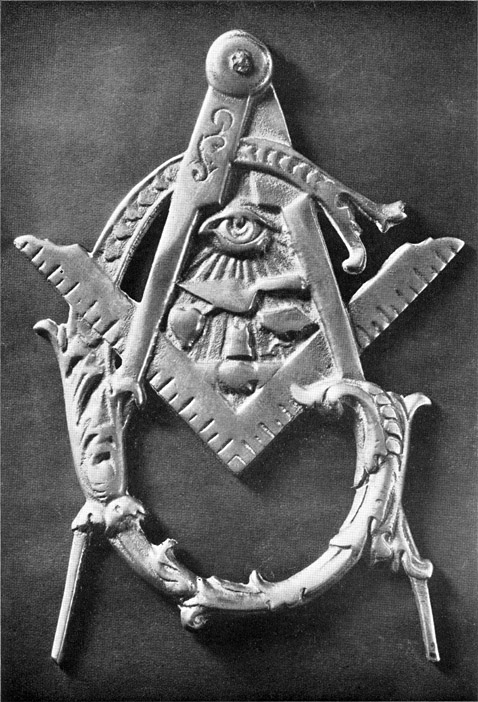 Masonic emblem found near "Eight Mile" Lake, Alberta, in 1932.

Contained within the square and compasses are an all-seeing eye, trowel, heart, open book with ribbon bookmark, clasped hands and a sixth, unidentified image.

Although the History of the Grand Lodge of British Columbia, 1871-1971 records its deposit in our archives, the object is not in the current catalogue and its whereabouts is unknown. Based on this photograph, a 7' reproduction was made for a local stage production of Amadeus and later donated to our museum.

A similar cast metal masonic emblem is depicted on the dust jacket of the 1980 Bell Publishing Company reprint of W. L. Wilmshurst's The Meaning of Masonry. The dust jacket flap reads: "Cover ornament courtesy of Brother Jacob S. Geiser, Home Lodge 342 F.&A.M., Fort Wayne, In." Neither emblem has any indication of size or date.
"An interesting discovery was made in 1932 by the tenant of a piece of land in Alberta, bordering on "Eight Mile" Lake, which lies about seven miles west of Champion, a station on the Calgary-Lethbridge railway. This lake is usually dry for a portion of the year. He had a number of hogs on the land, and one day in that year, passing over a part where the hogs had been rooting, he found a large Masonic emblem. At the same time and place he found a knife, bearing the trade-mark of an English manufacturer, apparently bearing the date 1717. "The finder, a non-Mason, shewed his find to his brother, a Mason, who at once recognized the emblem as Masonic. Through another Mason it came to M.W. Brother Morley at Penticton who passed it on to M.W. Brother Hall, who in turn sent it to me. I have made inquiries about the district in which it was found, and am informed that, as far as is known, no camp of Mounted Police or other whites was ever located in the vicinity, but there are some evidences that there was an Indian burial ground near. "I have thought the relic so found was sufficiently interesting in itself to warrant mention, and I herewith attach a photograph of it. As to its origin, its age, or how it came to the place where it was found, I do not venture any opinion. It may be that some of our historically minded brethren of Alberta might be able to throw some light on this memento of past days." "Report of the Grand Historian", Robie L. Reid. Proceedings. 1941. p. 156. image bound facing p. 156.