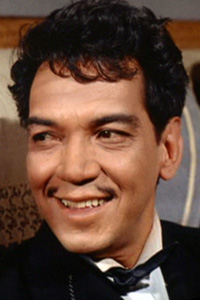 Around the World in 80 Days.
August 12, 1911 - April 20, 1993 Cantinflas, born Mario Moreno Reyes in Santa María la Redonda, was a prolific and popular Mexican comedian, film producer, writer, singer, actor, tumbler and bullfighter. He is best known in the English-speaking world for his role as Passportout in Around the World in 80 Days. "Despite the fact that Cantinflas died a millionaire several times over, and was one of the biggest stars ever in Spanish language films, he never forgot where he came from. Much of his money was given over to charitable work, including high-quality, low-income housing for Mexico City's poor. When he died, he was hailed as a national hero, and a protracted period of official mourning followed." Freemason Source: Philatelic Freemason, May-June 2001. www.msana.com/emarchives/emjun01.htm.
Quotation : www.imdb.com/name/nm0134594/bio (2006/08/26).
Also see : Who's Who in Comedy, Ronald L. Smith. pp. 88-89. New York: Facts on File, 1992. ISBN 0816023387.