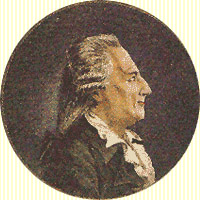 April 2, 1725 - June 4, 1798 Giovanni Giacomo Casanova (Jean-Jacques, Chevalier de Seingalt) — writer, soldier, spy and diplomatist — has one of the few biographical entries in the Encyclopaedia Britannica that records an association with the "Masonic Order."

His most important work, a vivid and exaggerated autobiography, Mémoires de J. Casanova de Seingalt, 12 vol. (1826-38) has made the name Casanova synonymous with 'libertine'.

Mackey tells us: "Casanova claims to have been initiated in the latter part of 1750 at Lyons, on his way to Paris, where he was made a Master Mason. At Venice in 1755 he was arrested on charges of sorcery and of being a Freemason, his Masonic clothing being found by police and deemed incriminating. Not only does he tell of meeting prominent Freemasons in various countries but in Rome itself he asserts that several prelates and cardinals were secretly members of the Craft."

References to Freemasonry can be found sprinkled throughout his Mémoires. The major references can be found on pages 276-79, tome II, chapter xiii and page 286, tome VIII, chapter xi of the Librarie Garnier Freres edition


Initiated: 1750
Lyons, France
Raised: 1750
Paris, France Source: Albert G. Mackey, Encyclopedia of Freemasonry.