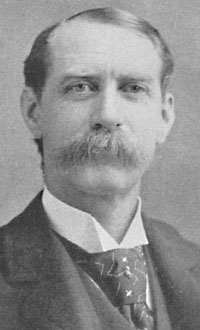 April 28, 1840 - July 24, 1924 Illustrator and poet Palmer Cox was born on his parent's farm in the South-Ridge District, between Adamsville and Granby, Quebec. Moving to San Francisco, he contributed cartoons, prose and poems to such publications as the Golden Era, the Alta California, and the San Francisco Examiner. Later he moved to New York where he contributed to Scribners and other east coast periodicals. It was here that the first collection of his Brownie stories was published; The Brownies, Their Book. He published 25 books in all; 16 of them, Brownie books. His continuing popularity can be seen in the 1988 Tuttle reprint of the Brownie Yearbook and the 1971 reprint of Bugaboo Bill. Palmer Cox died at Brownie Castle with eleven books still in print, leaving a legacy that lives on. Worshipful Master: 1874
Mission Lodge No. 169
San Francisco, USA Source: James Dalton Collection, Vancouver.