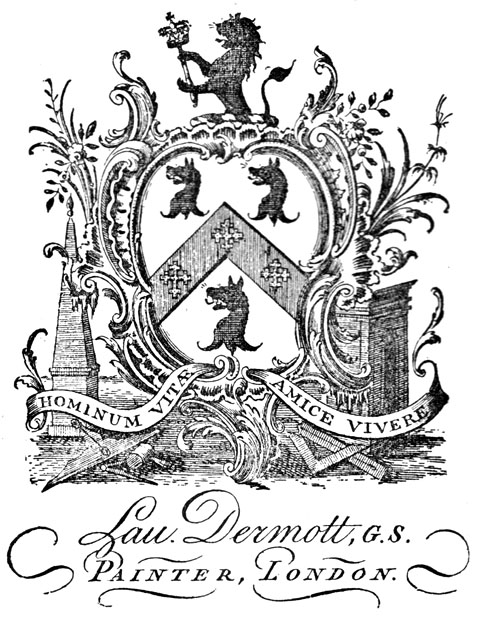 Laurence Dermott's Book-Plate. Whilst on a visit with Bro. Hughan to Bro. Horatio Ward of Canterbury, our host showed us his Masonic books. We were delighted to find in a copy of the first edition of the Ahiman Rezon the book-plate of the author, the celebrated Laurence Dermott. The accompanying cut is a facsimile. Although containing features not unlike the armorial bearings of the Painters and Stainers, the likeness to the following is more pronounced, and there can be little doubt as to the source whence Dermott obtained the coat.
"MacDermot (Chiefs of Moylurg Co. Roscommon ; an ancient Irish Sept, descended from Maolroona, second son of Teige, King of Connaught, in the seventh century), Argent, on a chevron gules, between three boars' heads erased azure, tusked and bristled or, as many cross-crosslets or. MOTTO (over), Honor et Virtus. MOTTO, Honor probataque Virtus."
Any little fact pertaining to ths remarkable man must be of interest, and I believe his book-plate has never before been known.—G. W. Speth. Source: Ars Quatuor Coronatorum, vol. v (1897) ed. G. W. Speth. p. 142. Note that no image of Dermott has come down to us.