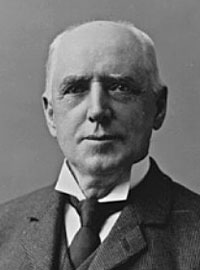 National Archives of Canada, PA25792
February 10, 1906 - August 22, 1827 Born in Vermont, industrialist Ezra Butler Eddy—the matchmaker of the world—moved his small friction-match factory from Burlington, Vermont, to Hull, Quebec in 1851. He expanded, modernized and diversified to produce a variety of wood and paper products. Eddy was a member of the Quebec legislature from 1871 to 1875; alderman of Hull from January 21, 1878 to January 17, 1888; and mayor of this city from January 24, 1881 to January 28, 1885 and from January 25, 1887 to January 17, 1888. He also served as president of the Ottawa Ladies College. Eddy Lodge No. 41 (Hull) was granted a dispensation dated 8 May 1873, and received warrant No. 298 on 10 July 1873 from the Grand Lodge of Canada. The first Worshipful Master was E. B. Eddy. Eddy Lodge affiliated with the Grand Lodge of Quebec on 23 September 1874. The endorsation thereof on it's warrant was made on 10 December 1874, when it became No. 41 Q.R. Grand Steward: September 1875
District Deputy Grand Master of Ottawa: 1876 Source: Grand Lodge Of Quebec Proceedings ; Freemasonry in Quebec (Graham 1892) ; Labelle, Rhéal, Monographie industrielle de la compagnie E.B. Eddy, thèse de maîtrise à l'université Laval, Québec, 1953, 177 p.