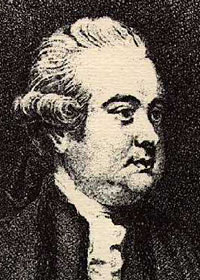 Essai sur l'étude de la littérature à Londres, chez T. Beckett et P. A. de Hondt, in duodecimo 1761
April 27, 1737 - January 16, 1794 Born into a well-to-do Surrey family and educated at Magdalen College, Oxford and later in Lausanne, Switzerland, Gibbon travelled Europe in 1763 and arrived in Rome in October of 1764. Returning to England, nine years were to pass before he began writing The Decline and Fall of the Roman Empire, the first volume of which was published in 1776. The second and third volumes were both published in 1781, the same year he was elected member for the borough of Lymington in Hampshire. In September, 1783, Gibbon, having disposed of all his effects except his library, left England and returned to Lausanne where he wrote the last three volumes of his Decline and Fall which were all published on 8th May, 1788. Two hundred years after its publication, Gibbon's The Decline and Fall of the Roman Empire continues to be a popular history of the period. Initiated: Dec. 19, 1774
Lodge of Friendship No. 3, London Source: AQC Vol. 17 (1904) p. 22.
Add. MSS. 34887, British Museum.