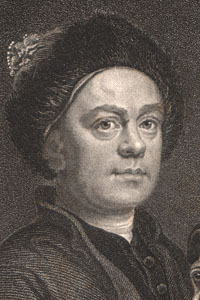 Self portrait detail, 1745
November 10, 1697 - October 26, 1764 An English artist best known for his set of eight engravings entitled "A Rake's Progress", published in 1735, Hogarth also designed the Grand Steward's Jewel for the Grand Lodge of England. Hogarth's painting Night, engraved by Charles Spooner, is well known to Freemasons as a burlesque or satire of a number of members of Hogarth's first Lodge. Lodge at the Hand & Apple Tree, Little Queen Street: 1725
Grand Steward: 1734. Source: Denslow). Also see: Ars Quatuor Coronatorum, Eric Ward, "William Hogarth and his fraternity" Vol. LXXVII (1964) pp. 1-20; W.H. Rylands, "Hogarth's Picture Night" Vol. II (1889) pp. 146-55. Transactions of the Quatuor Coronati Lodge No. 2076, London. Portrait engraved by S. Freeman, reproduced from The Works of William Hogarth, 1833.