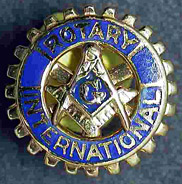 1864 - May 23, 1918 Chicago jeweller, promoter and mining engineer, Gus Loehr was one of the four founding members of the Rotary Club with Hiram Shorey, Silvester Schiele, and attorney Paul Harris, whose idea the association had been. It was at Gus's office in the Unity Building on Dearborn Street, Chicago, that on the night of February 23, 1905, the meeting took place which led to the formation of the first Rotary club. The world's first service club, it has since spread to 166 countries and now claims 1.2 million members in 31,000 clubs. Initiated: August 8, 1886
Passed: September 30, 1886
Raised: April 10, 1886
Suspended NPD: May 27, 1896
Reinstated: May 27, 1903
Lakeside Lodge No. 739
Source: Lakeside Lodge No. 739 records; The Book of Chicagoans, a Biographical Dictionary of Leading Living Men of the City of Chicago Chicago : A. N. Marquis & Company, 1905. Also see rotaryhistoryfellowship.org.