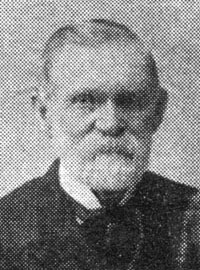 Photo: Chatelaine July, 1964
1823-1896 Invited by his father Daniel Massey (1798-1856) to join the Massey Manufacturing Company in 1851, Hart used mergers, spirited sales and advertising techniques, and entry into foreign markets to become the leading manufacturer of farm implements. In 1891 the firm merged with A. Harris, Son & Company to form Massey-Harris Company Ltd. In 1953 Massey-Harris merged with the Ferguson Companies to form Massey-Harris-Ferguson—shortened to Massey-Ferguson— in 1958— which was reorganized into Varity Corp. in 1987. The Massey-Ferguson division was sold to the American AGCO Corp, in the early 1990s. Note that another Hart Massey is on record as Secretary of Ontario Lodge, Sackets Harbor, N.Y., on 4 April 1805. Freemason

Source: Jim Harrison, A Few Famous Freemasons.