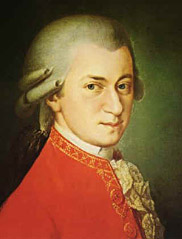 Oil painting by Barbara Krafft, Salzburg, 1819.
Mozart's masonic friends
---
Several lodges have been claimed as Mozart's mother lodge due to the unsettled state of Freemasonry in Vienna of the time. He had arrived in 1781 and was initiated on 14 December, 1784, less than a year before Emperor Joseph II issued a decree protecting freemasons on 1 December, 1785. Between 1780 and 1785 there had been eight lodges in Vienna. The Emperor's decree was rescinded 1789 but while it was in effect Vienna was limited to two lodges: Zur Wahrheit and Zur neugekrönten Hoffnung. On 1 December 1785, Mozart's mother lodge Zur Wohltätigkeit—founded by brethren of Lodge Zur gekrönten Hoffnung (Crowned Hope)— united with Zur den drei Feuern and Lodge Zur gekrönten Hoffnung, under the name Zur neugekrönten Hoffnung. The list for 1788 show the members of Zur neugekrönten Hoffnung consisted of one crown prince, thirty-six counts, one marquis, fourteen barons, forty-two nobles, officers, ambassadors, chamberlains, prebendaries, officials, etc.: merchant M. Puchberg, Baron von Gebler, Count Franz Josef Thun, Prince Bishop of Ciemsee Count Ferdinand Christopher von Zeyll, Charles Louise (Metzler Giesecke), L. Schmidt, director of the Salzburg Theatre, and probably librettist Emanuel Schickaneder. Baron von Gemmingen had proposed both Mozart and his father, Leopold Mozart. Lodge Zur wahren Eintracht (True Harmony) was a literary lodge, with such members as: Sonnenfels; satiric poet Blumauer; Paradis; composer Joseph Haydn who was initiated in 1785; Dr. Reinhold, professor of philosophy; and philosopher and lodge founder Ignace Von Born [1743-1791], who had opposed the encroachments of the Strict Observance. Ars Quatuor Coronatorum, "Bro. Mozart and some of his masonic friends," Herbert Bradley. vol. xxvi (1913), pp. 241-263. Denslow, 10,000 Famous Freemasons (1958), notes that Mozart was passed on January 7, 1785 in Lodge Zur Wahren Eintracht.