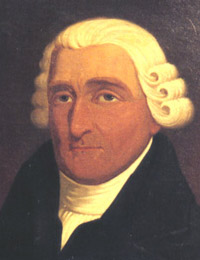 Painting attributed to Louis Dulongpré
1753-1844 Known during the 19th century as the "Father of Education in Canada" Perrault was born in Quebec City at the end of the French regime. Elected to the House of Assembly in 1796 and 1800, he gave up politics and turned his attention to education. He first held the position of president of the Education Society of the District of Quebec from 1821 to 1825, and that of president of the British and Canadian School Society of the District of Quebec from 1823 to 1828. The goal of the societies was to provide free education to poor children. He opened a school for boys in 1829 and, later, a school for girls, both in Quebec City. Religion was taught only to those who requested it, and the schools accepted both Catholics and Protestants. Not only was there free schooling for poor children, but Perrault supplied them with socks and shoes so that they could attend school during the winter months. In 1832 and 1833, he and Amury Girod, who had recently arrived from Switzerland, established a school of agriculture and a model farm where the teaching was both theoretical and practical. A devout Catholic, he favoured religious neutrality in education and was a freemason. Freemason Source: National Library News National Library of Canada, December 1999 Vol. 31, No. 12. Jolois, Jean-Jacques. Joseph-François Perrault, 1753-1844, et les origines de l'enseignement laïque au Bas-Canada. Montréal, Presses de l'Université de Montréal, 1969. Galarneau, Claude. "Joseph-François Perrault", Dictionary of Canadian Biography. Vol.7, pp. 687-690.
Detail: Painting attributed to Louis Dulongpré (1759-1843), oil on canvas, 73 x 54.2 cm , Montréal, Château Ramezay Museum, 1998.916, donation of Mrs. F. D. Leroux born Perrault, Varennes November 1915, through Mr W. D. Lighthall. Photo Robert Derome.