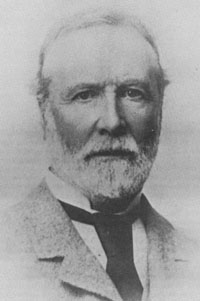 1827 - November 18, 1913 B.C.'s first Premier was born in Caledone, County Tyrone, Ireland, educated in England, and, in 1852, called to the bar in Dublin. Leaving Ireland for Australia, he developed a law practice in Melbourne. Moving to British Columbia in 1860, he practiced law on Vancouver's Island. Asked by the first Lieutenant-Governor, Joseph Trutch, to put his name forward, he was elected in the first provincial election in November 1871. He resigned as Premier after a vote of non-confidence at the second session of the Assembly on December 17, 1872. He retained his seat until 1875 when he retired from politics to return to law.

In 1880 he was appointed a judge of the Supreme Court. It was about this time that he left the Anglican Church to join the Roman Catholic Church. Retiring in November 1897, he relocated to Rome and later moved to Hastings, England where he died in 1913.

Initiated : 1866
Master : 1868
Dimitted : April 7, 1881
Victoria Lodge No. 783 E.R.
Senior Grand Warden : 1869
District Grand Lodge, ER
Deputy Grand Master : 1871-1872, 1873-1874
Grand Lodge of British Columbia
Representative from the Grand Lodge of England, 1874 Grand Lodge archives, card catalogue; History of Grand Lodge of British Columbia, 1871-1970, compiled by John T. Marshall.