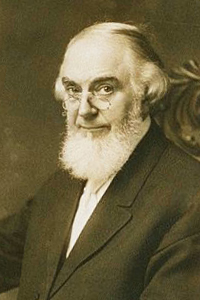 February 16, 1852 - October 31, 1916 In an address delivered in a San Francisco masonic hall in 1913, Russell made positive use of masonic imagery by saying, "Now, I am a free and accepted mason. I trust we all are. But not just after the style of our masonic brethren." He further develops this idea: "true Bible believers may or may not belong to the masonic fraternity, but they are all masons of the highest order, since they are being fashioned, chiselled and polished by the Almighty to be used as living stones in the Temple Built Without Hands. They are free from sin, and therefore accepted by the God of Heaven as fit stones for the heavenly Temple."

Later in this address, Russell stated quite clearly that "I have never been a mason." Those who claim Russell was a freemason quote this address out of context without noting the rhetorical imagery.

Although the assertion is often made that the pyramid monument, erected to Russell's memory, is "proof" that he was a freemason, the Grand Lodge of Pennsylvania, The Grand Lodge of Ireland, and the United Grand Lodge of England have no record of his membership.

Non-mason "The Temple of God" Souvenir Notes, Bible Students' Conventions, 1913. Chicago : Dr. Leslie W. Jones, 1913. p. 284. Cited by Mercedes O'Ryan, The Wind Demon Within Me. Bloomington : AuthorHouse, 2010.