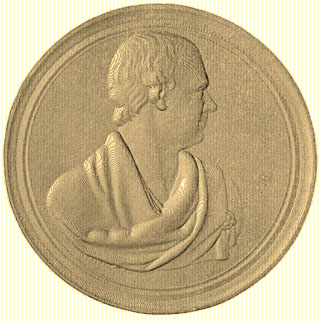 Reproduced from the frontispiece to The Poetical Works of Sir Walter Scott, Bart. Boston: Crosby, Nichols, Lee and Company, 1861.

August 15, 1771 - September 21, 1832 Scottish novelist, Sir Walter Scott, was born in Edinburgh. Scott created and popularized historical novels such as Ivanhoe as well as writing much poetry.
Scott's amiability, generosity, and modesty made him popular with his contemporaries, as can be seen in The Life of Sir Walter Scott - edited from his memoirs in 1848 by J.G. Lockhart. Initiated, Passed & Raised:
March 2, 1801
Lodge Saint David, No. 36, Edinburough,
Hyndlords Close, Nether Bow
---
Ref.: "Sir Walter Scott as a freemason," Adam Muir Mackay. Ars Quatuor Coronatorum,vol xx (1907) pp. 209-20. Also see The Masonic Tidings, January, 1911: Milwaukee, Wisconsin. p. 7.