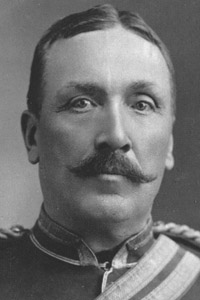 RCMP Regimental Archives photo
January 5, 1849 - January 30, 1919 One of the first members of the North-West Mounted Police, Steele was responsible for defending the construction route of the Canadian railway. In 1898 he was sent to the Yukon to establish border posts on the White and Chilkoot Passes. For two years he was responsible for keeping the peace, running the mails, organizing fire-fighters and instituting drainage, sewage and garbage disposal and maintaining a pure water supply for Dawson. Taking a leave of absence from the NWMP, Steele commanded the Strathcona's Horse in South Africa in 1900. From 1901 to 1906 he took charge of the South African Constabulary, styled after the NWMP. During the First World War he was promoted to major-general, commanding Canadian forces in England. Initiated: 6 Apr 1874
Passed: 1 Jun 1874
Raised: 6 Jul 1874
Demitted: 19 Jan 1892
Lisgar Lodge No. 2, Selkirk, Manitoba

Affiliated: 5 Mar 1892
Demitted: date unknown
Alberta Lodge No. 37 at Macleod, NWT

Affiliated 26 Jun 1886
Demitted 4 Jul 1889
Battle Lodge No. 38, Battleford, Assiniboia

Source: Grand Lodge of Manitoba A. F & A. M. records.