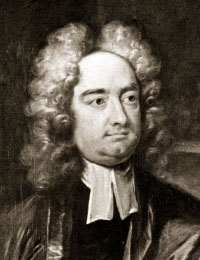 Detail from a Charles Jervas painting, National Portrait Gallery
November 30, 1667 - October 19, 1745 Born in Dublin, Swift took religious orders in 1694 and was appointed Dean of Saint Patrick's Cathedral, Dublin in 1713. Author of such social satires as Gulliver's Travels (1726) and A Modest Proposal, Swift is recorded as having expended a third of his income on charity. Member: Lodge Goat-at-the-Foot-of-the-Haymarket, No. 16, London
Note: Thought to be a member. Source: William R. Denslow, 10,000 Famous Freemasons, Chetwode Crawley.