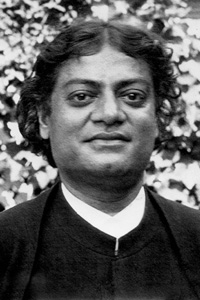 Charles Neilson photo, 1900.
12 January 1863 - 4 July 1902 Born Narendranath Dutta, Swami Vivekananda is considered one of the most influential spiritual leaders of the Vedanta philosophy and a leading exponent of both Hinduism and Yoga in the west. He was the founder of Sri Ramakrishna Math and Ramakrishna Mission, now one of the largest monastic orders of Hindu society in India. Vivekananda's speech at the 1893 World Parliament of Religions in Chicago, Illinois—when he spoke of the harmony of world religions and the common spirituality of humanity—"has been identified by many to mark the beginning of western interest in Hinduism". After four years of constant touring, lecturing and retreats in the west, he returned to India in 1897. He once again toured the west from January 1899 to December 1900. Swami Vivekananda was the first Indian to be invited to accept the chair of Oriental Philosophy at Harvard University. His lectures and writings have been gathered into nine volumes. Initiated: 1884
Anchor and Hope No. 1, Kolkotta Source: Grand Lodge of India records ; Grand Lodge of India list of lodges. also see The Telegraph, Calcutta, India. Sunday, May 09, 2004.