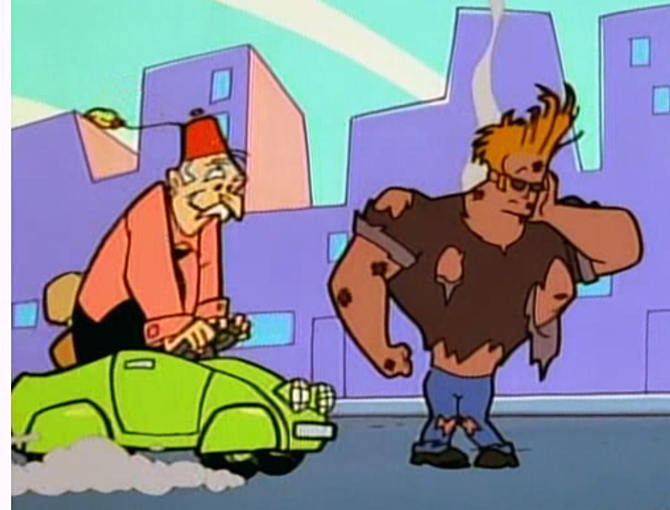 Johnny Bravo
Johnny Bravo (1999)
Johnny tears up a chain letter and promptly has a baseball break through his window, is banned from the gym; his minicycle is destroyed by a meteor; he's hit in the head by another baseball, hit by lightning; driven over by three red-fezzed drivers in minicars, a clown on a pogostick, the same three minicars, a large gymnast, the minicars again; and finally stepped on by an elephant. Suzie: "Having a bad day, Johnny?" Johnny: "Don't get near me kid, I've got some seriously twisted mojo goin' on." [00:03:00] Later, in silhouette, the minicars drive over entertainer Dionne Warwick.
SHRINERS FICTION INDEX | OBSCURITIES | THE FEZ | CINEMA INDEX

Johnny Bravo. Season 2, Episode 3 August 6, 1999 (203) "Karma Krisis". Dionne Warwick, Brenda Vaccaro, Micky Dolenz, , Jeff Bennett, Larry Drake, Tom Kenny, Mae Whitman. Produced by Gary Hartle, Cosmo Anzilotti, written by Van Partible. 7 min.