The Secret World (2012)
One of many online role-playing games, The Secret World1 continues the trend in popular culture to fictionalize the Bavarian Illuminati and Knights Templar. The Illuminati is described as: "'Sex, Drugs and Rockefeller' - Invisible puppet-masters and corporate manipulators, they crave power and wealth by any means necessary.' They are battling the Templars for world domination."2 This fictional Illuminati uses the image of a circle in a triangle, reinforcing conspiracists' unsubstantiated claims that the all-seeing eye and pyramid image found on the USA great seal is also the symbol of the Illuminati.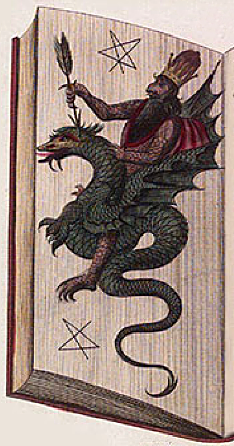 "In an interview to GameSpot at the 2009 Penny Arcade Expo, creative director Ragnar Tørnquist and the lead designer Martin Bruusgaard revealed which playable factions ('secret societies') will be available in the game. These are: the London-based Templars, pious zealots "who would burn an entire village down to get their hands on one demon'; the New York City-based Illuminati, Machiavellian pragmatists who 'believe that it's a tough world where only the strongest will survive'; and the Seoul-based 'Dragon', who take a neutral stance between the other two and are 'all about deceiving, orchestrating chaos, and waiting patiently for its time'." 3
The appearance of the USA great seal in the online marketing of this game unfortunately taps into common conspiracy theories identifying the Illuminati and the Knights Templar with Freemasonry. Note the pentagrams and incomplete pentagram, also used in the online marketing. What a wyvern has to do with magic, and what magic has to do with conspiracy theory are questions that can only be answered in the world of fiction. 1.

The Secret World. (MMORPG), Funcom. Ragnar Tørnquist, Martin Bruusgaard. Release date 2011-2012. 2.

thesecretworld.com/society accessed 2011/07/02. 3.

Sophia Tong, (2009-09-10). "The Secret World Updated Impressions". GameSpot. Cited by http://en.wikipedia.org/wiki/The_Secret_World. Retrieved 2009-09-12.
FREEMASONRY IN GAMES | BAVARIAN ILLUMINATI