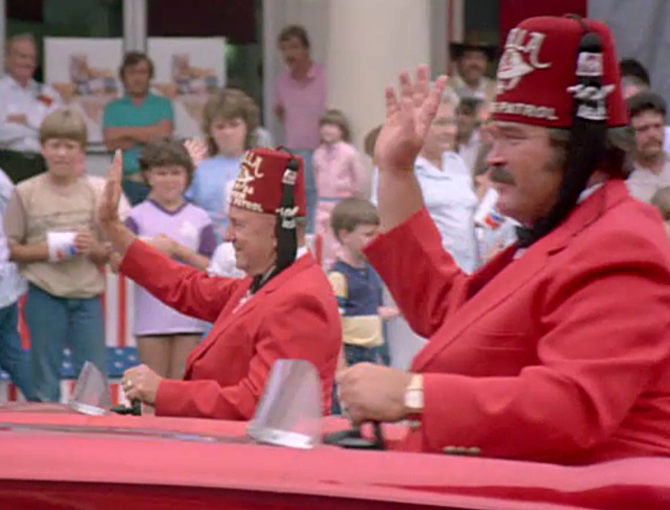 Halla Shriners
True Stories (1986)
David Byrne of Talking Heads fame visits a typical (and fictional) Texas town, on the eve of the town's celebration of the state's sesquicentennial where he sees a hometown parade featuring, "Our very famous visitors, the Red Mustang Shriners." [01:06:07] Earlier, the Preacher fulminates: "Let's look at who's been running this country since World War Two. The Trilateral Commission with the Council on Foreign Relations! You ever hear of them?" On the screen behind him is displayed the eye and pyramid emblem of the fictional Terridox Corporation. [00:40:25]
SHRINERS FICTION INDEX | OBSCURITIES | THE FEZ | CINEMA INDEX

True Stories (1986). Directed by David Byrne, written by David Byrne, Beth Henley. David Byrne, John Goodman, Annie McEnroe, Jo Harvey Allen, Spalding Gray, Alix Elias, Roebuck 'Pops' Staples, Tito Larriva, John Ingle, Matthew Posey, Swoosie Kurtz, Freeman Beatty, Evelyn Box, Kevin Box, Amy Buffington. USA, English. 90 min. Dolby, Colour.