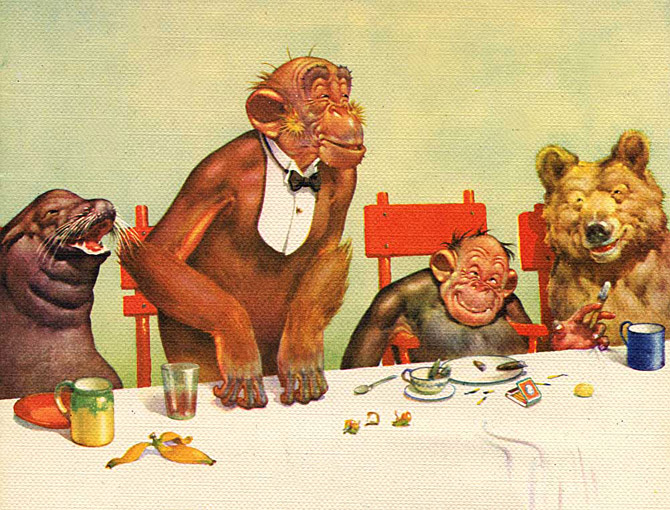 Illustration detail from "Gran'pop rises to make a speech"
Gran'pop's Annual (1935 - 1950)
English comic-artist [Clarence] Lawson Wood (23 August 1878 - 26 October 1957) illustrated Gran'pop the "artful" ginger ape in the Gran'pop's Annual series written by Arthur William Groom and published by Dean, & Son Ltd., London, from 1935 to 1950. Undated, each book was about 124 pages and profusely illustrated. At least one illustration, if not a series, depicts Gran'pop in a masonic setting. Unfortunately an example is not available. His illustrations were frequently reprinted as postcards, posters, and a wide range of novelty items, as well as on the covers of such magazine as Colliers. An active member of the London Sketch Club, with Tom Browne, and a member of the Royal Institute of Painters in Watercolours, Wood showed with Walker's Galleries, Brook Street Art Gallery and at the Royal Academy. In 1934 he was awarded a Royal Zoölogical Society fellowship for his active work with animals and their welfare.

Source: "Historic Aspects Of Freemasonry" by W. Bro Yasha Beresiner, Quatuor Coronati Lodge No. 207, London: "Lawson Wood also drew a series of masons in his well known Gran pop series."