MASONIC LODGES
.
No 488 (Victoria)
Glenferri
1930
.
.
No. 646 (New South Wales) Sydney
1934
.
.
No. 381 (New Zealand)
Auckland
1934
.
.
No. 505 (Queensland)
Brisbane
1964
.
.
No. 222 (South Australia)
Adelaide
1974
.
.
No. 350 (Western Australia)
Victoria Park
1983
.
Freemasonry and
Lord Baden-Powell
---
"...there is no evidence that Major-General Lord Robert Stephenson Smyth Baden-Powell was a Freemason under the English, Irish or Scottish Constitutions. It is remotely possible, but unlikely, that he was initiated under some other jurisdiction. Bro. George Kendall, in his paper 'Freemasonry during the Anglo-Boer War, 1899-1902' (AQC 97), makes no mention of him. Paul Butterfield's Centenary: The First Hundred Years of English Freemasonry in the Transvaal (1978) is similarly devoid of reference. Had Baden-Powell been a member of the Craft it would surely have come to light during the war in South Africa, during which masonic activity is well documented."1. "Lord Baden-Powell must clearly have approved of Freemasonry, for he presented to the first lodge to bear his name (No. 488, Victoria) the Volume of Sacred Law which is still in use. Its fly leaf was thus inscribed by him: 'With best wishes for the success of the lodge in its good work, Baden-Powell of Gilwell. 12th May 1931'. His grandson, Hon. David Michael Baden-Powell was initiated in this lodge and remains an active member."2. Lodge records show him to be a Past Master of the lodge.
Freemasonry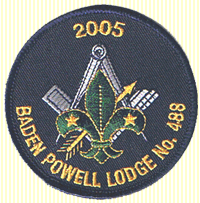 There are six masonic lodges named after Baden-Powell, all in Australia—but they were formed by scouts, not by Baden-Powell. Baden-Powell Lodge No. 505 has published a booklet entitled Freemasonry and the Scout Movement(1982). They can be reached through: United Grand Lodge of Queensland, Box 2204 GPO. Brisbane, Queensland 4001, Australia. It is well known that Baden-Powell borrowed heavily from his friend Rudyard Kipling when he created the Cub Scout programme. Kipling was initiated in Lodge Hope and Perseverance at Lahore. He often mentioned the Craft in his writings: The Mother Lodge being only one example. There is a mallet and chisel in the museum of the District Grand Lodge of the Punjab in Lahore, a gift from Bro. Kipling with his handwritten note. If one looks closely at the structure, beliefs and goals of both movements, it can be seen that they inculcate the highest ideals of respect for the individual and society combined with a sense of duty and responsibility manifested in self relience, service to others and charity to all. Lady Olave Baden-Powell (1889/02/22-1977/06/19), has confirmed that B-P was not a Freemason, but that his younger brother, Major David Baden-Powell, was a member of the Craft.3 The Empire Sentinels Scheme There have been many speculations about connections between Scouting and Freemasonry, and whether early leaders in Scouting were connected to the Craft. A scheme that was officially trialed by the Dominion Boy Scouts Association in New Zealand has some characteristics that may seem familiar. Some Early History After Lt.-General Baden-Powell had commenced the Scout movement in England, a Boer War veteran, Major David Cossgrove formed the first New Zealand Troop in 1908, and the next January held the first camp. By the end of 1909 he had enrolled upwards of 500 patrols. He also started a scheme for "Junior Scouts" prior to the development of Wolf Cubs in England. Later he started a scheme for retaining those lads who had reached the age when they could no longer be Boy Scouts. This was the inception of the Empire Sentinels. We know of the trial from official minutes. The scheme is also referred to in letters between Col. Cossgrove and Sir Robert Baden-Powell, and from a few surviving copies of a printed handbook. The scheme is based around "Watchtowers" and 3 degrees of efficiency:
1. based on religious duty, with proof of the ability to work.
2. of patriotism and good citizenship and better work.
3. self-sacrifice in service to others, and still better work. The Officer's were to be: a Chief Sentinel, a Sentinel of the South, a Sentinel of the East, a Sentinel of the West, an Inner Guard, an Outer Guard, a Senior Watchman, a Junior Watchman, a Scribe, and a Padre. The Tower is opened in the 3rd Watch, then dropped to the 2nd or 1st as required. Visitors are admitted before each Watch is commenced. Sentinels enter using a pass word, saluting, then being seated, but a visiting Chief Sentinel is escorted up the centre of the building with Watchman's poles forming an archway over his head as he proceeds. Halters and blindfolds are used and the "Alarm" appears to be the same number of knocks as the Watch in which the Tower is working. The saying "So Mote it Be" is mentioned. There are four principal officers in the Tower ceremonies, and the Chief Sentinel sits in the North. Lights are lowered and symbols of office illuminated in each Watch. Whither the Sentinels? In 1919 in a letter to B-P, Colonel Cossgrove said of the Empire Sentinels: "There are no groups of these in New Zealand at present. The Scheme is for young men who are beyond Scout age and whose work prevents them taking up Scout activities the scheme has already been taken up enthusiastically in Africa, America and in Australia, I believe, and will be here when our young warriors return and have settled down various schemes for Senior Scouts do not appeal to Scoutmasters here due to the fact that all our boys of 14 years and over must attend to their military duties, often two and three times aweek and also on Saturday afternoons. In the towns where most of these boys are they have to attend Technical Schools too, and in the country districts they have no time for Scouting as they work late and early. Research has not shown that David Cossgrove was ever a Freemason. With his death in 1920, and the developments foreseen in the extract above,the impetus may have been lost. There is no indication that any Watch Towers ever operated other than as a trial, but the scheme is still demonstrated a few times a year by masonic Scouters in New Zealand.5 Baden-Powell at Mafeking While there is no evidence that Baden-Powell was a Freemason, photographs taken before the siege of Mafeking include one of a man, identified as a Freemason, who bears a superficial resemblance to Baden-Powell. This has led to mistaken reports that Baden-Powell was initiated into Freemasonry.6 1. Frederick Smyth, Ars Quatuor Coronatorum: Transactions of Quatuor Coronati Lodge No. 2076, vol. cii. London: 1990. p. 264. 2.

Ars Quatuor Coronatorum: Transactions of Quatuor Coronati Lodge No. 2076, vol. civ. London: 1991. p. 257. 3.

"Freemasonry and the Scout Movement" by George W. Kerr, Ontario Mason, 1994, Philalethes, December 1995. 4.

Detail from an oil painting by David Jagger, 1929. It was presented to B-P on August 6, 1929 at the III World Jamboree at Arrowe Park, Birkenhead, England. The original is displayed in the conference room at World Headquarters (WOSM) in Geneva, Switzerland. <pinetreeweb.com/bp-freemasonry.htm>. Accessed 1996/05/26. 5.

The information on the Empire Sentinels is excerpted from a posting to the newsgroup <rec.scouting> by Edward Robinson, Westminster Lodge 308, New Zealand Accessed 1996/05/26. 6.

Taylor, D., Souvenir of the siege of Mafeking from original photographs by D. Taylor. [s.l. : s.n., 1900?] (Sheffield : Leng) 1 v. ; 29 x41 cm. There is a stamp which suggests that the original is in the possession of Centro Studi Scout in Parma. Picture No. 2 is titled "Officers of the Protectorate Regiment, taken at Ramathlabama Camp, before the Siege" and includes "Col. Baden-Powell, 5th Dragoons." Picture No. 45, titled "Group of Free Masons" includes one man who bears a superficial resemblance to Baden-Powell. He is sitting in the front row of the group, all of whom are wearing collars and aprons. In the second and third rows there are three men wearing sashes with a large diamond pattern and jewels/medals on their left breasts.