[7]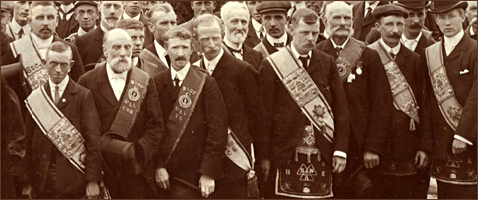 Dedication, Castle Bridge, Scotland, 1908.
Ancient Order of Free Gardeners
---
"The one small garden of a free gardener was all his need and due, not a garden swollen to a realm; his own hands to use, not the hands of others to command." Samwise Gamgee, The Lord of the Rings, Part III, p. 206. [6]
Introduction 1. The origin of this Order are obscure but it is believed to have been formed in Scotland in the 18th century as a benefit society and from there it spread first to Northern England and then all over the country. 2. The movement originally consisted of independent lodges but attempts were made at forming a central administration and a Grand Lodge appeared in the 1840s with subordinate provincial Grand Lodges and private lodges. Unity was short-lived, however, and breakaway groups were formed in the late 19th century. 3. From Ms. rituals it would appear that the lodge officers were the Master, two Wardens, Chaplain and Inside and Outside Tylers. There were three degrees: Apprentice (based on Adam in the Garden of Eden), Journeyman (based on Noah's Ark) and Master Gardener (based on King Solomon). Each ceremony included an obligation, passwords, signs and a catechism. 4. Aprons, collars and jewels of the Order show a similar symbolism to Freemasonry. The principal emblem has the square and compasses conjoined as in the Craft with, laid over them, a pruning knife open at an angle of sixty degrees. Painted aprons and certificates include scenes such as Adam and Eve in the Garden of Eden, Noah's Ark, the main emblem just described and representations of gardeners' tools. The latter were symbolized in the ritual catechisms in the same way that the operative masons' tools are symbolized in Freemasonry. The letters P.G.H. and E. also appear prominently displayed and refer to the four heads of the river running through the Garden of Eden (Pison, Gihon, Hiddekel and Euphrates; see Genesis Chapter 2 vv. 10-14) and the letters A.N.S. and 0 which refer to the three Grand Master Gardeners (Adam, Noah and Solomon) and the Olive sign and grip of a Master Gardener. 5. In recent times branches of the Order of Free Gardeners were still listed on the Register of Friendly Societies, including (in England) the National Order and (in Scotland) the British United and St. Andrew's Orders.[1] St Andrew Order of Ancient Free Gardeners "Scotland's first Gardeners' lodge is believed to have been founded in Haddington in the 17th century. The lodges originally promoted and regulated the gardening profession but also acted as friendly societies, providing members with financial support in times of need and paying funeral expenses to ensure a decent burial. Many adopted the trappings and rituals of masonic lodges, with ceremonial regalia such as the square and compasses shown here resting on the Bible, accompanied by a gardener's pruning knife. Membership was not usually confined to gardeners, and non-gardeners (known as "Free Gardeners") came to dominate most lodges. By the mid-19th century most lodges were, primarily, mutual benefit societies. "The first lodges were independent, but in 1849 there was a meeting in Lasswade to set up a Grand Lodge which would lead the organisation. The spirit of unity did not last, however, and by 1859 there appears to be an Ancient Order of Free Gardeners based in Glasgow and another based in Edinburgh. The Glasgow organisation was known as the St Andrew Order of Ancient Free Gardeners or, alternatively, the Western Grand Lodge." [2] Stonyburn, West Lothian The Ancient Order of Free Gardeners formed a Lodge on 12th Dec. 1919 in Stonyburn, West Lothian. This was at the request of Stoneyburn men who were members of the Order in Bathgate. Stoneyburn Olive Lodge promised to become one of the largest in the shire at that time but apart from the report of its founding in the local press, no other mention of it has come to light but it is believed to have existed for several years before it and its Grand Lodge became dormant. The first R.W. Master was David Strickland and the Secretary was Peter Walker, an Addiewell man. [3] New South Wales, Australia The State Archives: Registry of Co-operative and Friendly Societies of New South Wales, Australia, contains 6 boxes of files (information relating to the appointment of trustees, closure, dissolution, and transfer, as specified under the Friendly Societies Act of 1899) of nine defunct friendly societies dating from 1902-75 (Kingswood 19/17378-83), including the Grand Unity of Free Gardeners. [4] Degrees Arturo de Hoyos, in his "Collectanea," an official publication of the Grand College of Rites of the United States of America dedicated to the study of masonic and quasi-masonic ritual, includes a chapter on "Sarsena" and The Ancient Order of Free Gardeners (1996) Contents: - Sarsena Introduction (by Art deHoyos);
- IV° Scots Apprentice and Fellow;
- V° Scots Master;
- VI° Scots Past Master and Kt. of St. Andrew, - VII° Grand Cross of the Knights of St. John;
- The Ancient Order of Free Gardeners: Synopsis (by T.W.R. Proctor);
- The Apprentice Degree with Instructions for the R.W.M.;
- Apprentice Lecture;
- The Second Degree (Journeyman);
- The Master's Degree;
Master's Lecture;
- Garden Lecture;
Apron Lecture;
- Travelling Lecture;
- Constituting a Lodge;
- Constitution of the Grand College of Rites. [5] 1. "Information Leaflet No. 12." Library and Museum of the United Grand Lodge of England, Freemason's Hall, Great Queen St., London, WC2B 5AZ
2. Reference: 41.80.426. Banner of St Andrew Order of Ancient Free Gardeners, Olive Lodge, Partick. Illust. detail: Burrell Collection Photo Library, Glasgow City Council, Glasgow Museums stoneyburn.com
3. web reference: stoneyburn.freeserve.co.uk/newpage14.htm Excerpted from Stonyburn, The Forgotten Baby, John B.Murray [Bishop] (1995), p. 47.
4. web reference: records.nsw.gov.au/cguide/pr/regcoop1.htm
5. web reference: grandcollegeofrites.org/collectanea.htm
6. Image: historyshelf.org : the Free Gardeners; also see for further detailed information.
7. Illust. from Ars Quatuor Coronatorum. vol. v (1892) p. 134.

For active lodges as of 2013, see hanginggardensofbabylonlodge.webs.com/history. Adelphi Bluebell Lodge No. 4 was established in Scotland as a preservation society in 2002 by Free Gardeners visiting from South Africa. Archived 2013/04/30: adelphibluebell4.co.uk