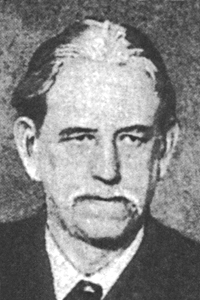 Daily Mirror, 27 Apr. 1911
January 8, 1854 - November 20, 1918 In 1882 Samuel Mathers was admitted to the Rosicrucian Society of England (SRIA) where he met Dr. Woodman and Dr. Westcott who commissioned his English translation of Knorr Von Rosenroth's Latin translation of Kabalah Denudata Chief of the Second or Inner Order of the Golden Dawn, he was the also author of almost all of the important Golden Dawn teachings and documents. Upon Woodman's death on December 20, 1891, Mathers assumed leadership of the Hermetic Order of the Golden Dawn. By 1900 the membership was divided, with Mathers and Crowley and a few others in one camp and in the other, Yeats and the majority of members who were estranged by Mather's bombastic behaviour. The Golden Dawn ceased to exist by that name after October, 1901, replaced by Mathers' Alpha et Omega and the London group's Order of the Morgan Rothe. No longer associated with the SRIA after 1902, Mathers continued to oversee a few temples until his death, when his wife, Moina, assumed supervision. Initiated: 4 October 1877
Passed 15 November
Raised 30 January 1878
Demitted: 27 December 1882
Lodge of Hengest No. 195, Bournemouth, UK Source: AQC. Note that his birth and death are otherwise recorded: b. January 11, 1854, d. November 5, 1918.