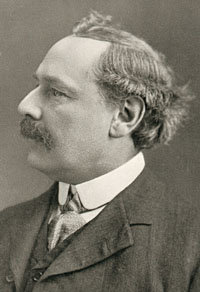 October 2, 1857 - May 19, 1943 English Christian mystic and writer on masonic and occult subjects, best remembered for the design of the Rider-Waite-Smith tarot deck published in 1910, A.E. Waite wrote A New Encyclopaedia of Freemasonry : Their Rites, Literature, and History (1921) and Emblematic Freemasonry. (1925). A large collection of his writings and letters is in the Iowa Grand Lodge Library, Ceder Rapids. USA.
His name is often linked with Wica, Wynn Westcott, Aleister Crowley, MacGregor Mathers, and Theodor Reuss. Waite was received into the Golden Dawn in January 1891 although his attendance and involvement was sporadic. Entering the The Societas Rosicruciana in Anglia (SRIA) in April, 1902, Waite precipitated a schism in the Golden Dawn the following year. He purged magic from the rituals, replacing it with mysticism. This society, the Independent and Rectified Rite of the Golden Dawn, was soon torn by further feuds and was dissolved by Waite in 1914, to be replaced by the Fellowship of the Rosy Cross in 1915. By this time there were some half dozen offshoots of the Original Golden Dawn, Waite's version being a minor note in the main theme continued by the Order of the Stella Matutina of non-mason, Dr. R. W. Felkin. A prolific writer on rosicrucian history, his The Brotherhood of the Rosy Cross (1924) is particularly noteworthy. Initiated: September 19, 1901
Raised: February 10, 1902
St. Marylebone Lodge No. 1305, London Source: R. A. Gilbert. The One Deep Student, a life of Arthur Edward Waite. Wellingborough: 1987.