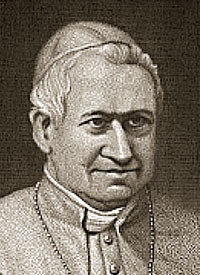 Duyckinick, Evert A. Portrait Gallery of Eminent Men and Women in Europe and America. New York: Johnson, Wilson & Company, 1873.
Giovanni Maria Mastai-Ferretti (b. May 13, 1792, Senigallia, Papal States - d. Feb. 7, 1878, Rome), head of the Roman Catholic Church whose pontificate (1846-78) was the longest in history and was marked by a transition from liberalism to conservatism.1 . On 8 December 1864, Pius issued the encyclical Quanta Cura with the Syllabus listing eighty of the "principal errors of our times." The eightieth "error" was that "the Roman Pontif can or should reconcile himself to and agree with progress, liberalism, and modern civilization." The first Vatican Council opened on 8 December, 1869. On 13 July, 1870 it was decided that the Pope was Infallable when he made pronouncements ex cathedra. "... the records of the Italian Grand Lodge show His infallible Holiness to have been expelled from the fraternity after his election as pope. Victor Emanuel, having been aided by Garibaldi, a 33° Mason, in overthrowing the temporal power of the papacy and establishing religious and constitutional liberty in Italy, was informed that the Pope, when a young man, had been Initiated, Passed and Raised in a Masonic lodge. He therefore caused him to be tried for repeated violations of his obligations to the Masonic brethren. Pius IX was found guilty, expelled, and the proclamation of his expulsion, signed by Victor Emanuel, then king of Italy and grand master of Masons in that country, was sent all over the Masonic world."2 Initiated : August 15, 1839
Expelled : March 27, 1873
Lodge Eterna Catena, Palermo

1.

New Encyclopaedia Britannica. 1989. v.9, p. 485.
2
.

W. G. Sibley [William Giddings] (1860-1935), The Story of Freemasonry. Gallipolis, Ohio. The Lion's Paw Club, Gallipolis Daily Tribune Press: 1904. p. 23-24. [114p. 19cm.]. No citation noted. Also see Ars Quatuor Coronatorum. vol. xxvi (1913) pp. 218-19. vol. xxxii, "Notes and Queries" p. 174. See Dudley Wright, Roman Catholicism and Freemasonry for source of initiation date. Cf.: 1832 initiation date, also "For years a copy of his 'petition' was circulated as proof of the event; but it has been denounced as a forgery." Alphonse Cerza, The Truth is Stranger than Fiction. Washington, D.C. ; The Masonic Service Association, 1980. p. 57. Also see Gould's History of Freemasonry Throughout the World (1936)