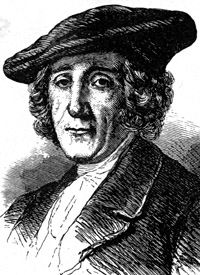 Illustration from Gould's History of Freemasonry. Also see a lithograph by Brothr. Schenk. Edinburgh.
d. 1778 The 21st Baron of Rosslyn was a skilled golfer and archer. A full length portrait hangs in the chapel of Canongate-Kilwinning Lodge. "First Grand Master Mason of Scotland, elected in 1736 when the Grand Lodge of Scotland was formed, an office he held for one year only. A good deal of discussion has been had pro and con as to the validity of two old documents known as the Saint Clair Charters, one dated about 1601 and one 1628, in which documents the statement is made that the Operative Masons of Scotland had conferred upon the family of Saint Clair of Roslin the honor of being recognized as Patron and Protector of the Craft. In 1736 when a first Grand Master was to be chosen for the Scottish Grand Lodge, William Saint Clair was made a Freemason in the Lodge Canongate Kilwinning and he also formally resigned all claims to be Patron and Protector of the Freemasons in Scotland on November 30 of the same year at a meeting held at Edinburgh. William Saint Clair died in 1778." Initiated: May 18, 1736
Passed: June 2, 1736
Lodge Canongate Kilwinning
Grand Master: St. Andrew's day 1736
Grand Lodge of Scotland Text reprinted from Albert G. Mackey Encyclopedia of Freemasonry, 1966. p. 899. Initiation dates noted in Heredom, the transactions of the Scottish Rite Research Society, Volume VI, Year 1997.