David Hughes, who publishes The Brownie, a quarterly newsletter for Brownie camera fanciers in Britain, received the following correspondence from Eastman Kodak:

Date: Fri, 18 Feb 2000 22:16:26 +0000

We have gone through the Eastman correspondence looking for an agreement between EKC and Cox. Thus far we have not found any sort of agreement between the two. I suspect that there was none. From a legal standpoint, Eastman's character was probably different enough to avoid any law suits, plus Eastman's resources were considerably larger than Cox's so Cox probably would not have tried anyway. We also have all of Eastman's financial records in the collection. There is no record of Eastman paying Cox.

Sincerely,

Todd Gustavson
Curator
Technology

This correspondence was forwarded to Dr. E. Margerum who is currently writing a biography of Palmer Cox.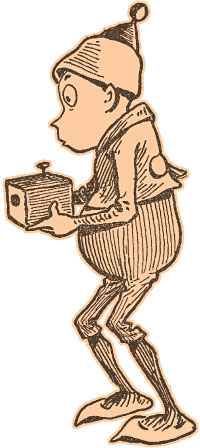 The Brownies in the Philippines 1904.
p. 13.