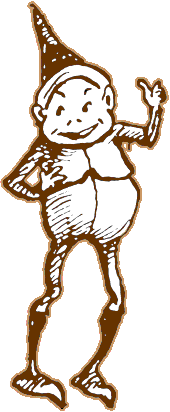 Based on the small, industrious house spirit of Scottish and English folklore, Palmer Cox created a merry band of Brownies who travelled by night to have fun and do good deeds.

Born in Granby, Quebec in 1840, Palmer went to San Francisco in 1863 to work as an artist, journalist, and cartoonist. He moved to New York in 1875, and later returned to Granby to live in Brownie Castle.

The first Brownies story, "The Brownies' Ride", appeared in the February 1883 issue of St. Nicholas. Palmer wrote 25 books before his death in 1924.

The Brownies appeared in ads or packaging for everything from "sick stomach" remedies to the Kodak Brownie camera. Today, collectors can find books, comic strips and magazine stories plus hundreds of toys and advertising items.