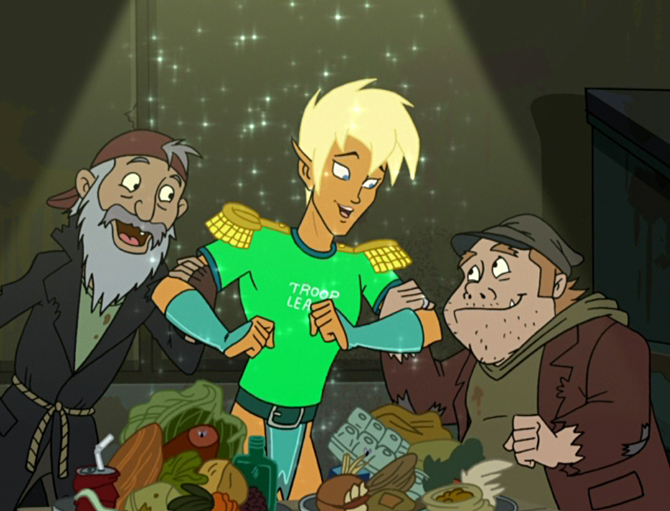 Ernie, Xandir and Nathan.
Drawn together (2007)
A parody of "Hakuna Matata" from The Lion King, "Scumma Bumma Grubba Moochie" is sung by Xandir and two bums in a mall parking lot. [00:06:10]

"Scumma Bumma Grubba Moochi/
You're off the grid in a tinfoil hat /
blocks the government from accessing the chip in your brain/
Scumma Bumma Grubba Moochi/
The world's your oyster, that we know/
When you take up the life of a derelect hobo/
Living on the free streets where the freemasons can't detect you."
Perhaps the first mention of a tinfoil hat in fiction

"First of all we found that with increasing reinforcement, we could get telepathy conducted to greater and greater distances, until finally we could transmit commands from the capital to the national boundary, nearly a hundred miles."
"The reader will perhaps ask how we ourselves expected to escape from the clutches of the superconsciousness we had created. Well, we had discovered that metal was relatively impervious to the telepathic effect, and had prepared for ourselves a sort of tin pulpit, behind which we could stand while conducting experiments. This, combined with caps of metal foil, enormously reduced the effects on ourselves."

— Julian Huxley, "The Tissue-Culture King," Cornhill Magazine: 1926.
Drawn together. "Lost in Parking Space, Part II". Season 3 Episode 8, October 4, 2007, Production Code 308.Guest voices : Phil LaMarr, Billy West, Qarie Marshall, Jess Harnell. Written by Elijah Aron and Erik Sommers, directed by Ray Claffey.
FREEMASONRY ON TELEVISION