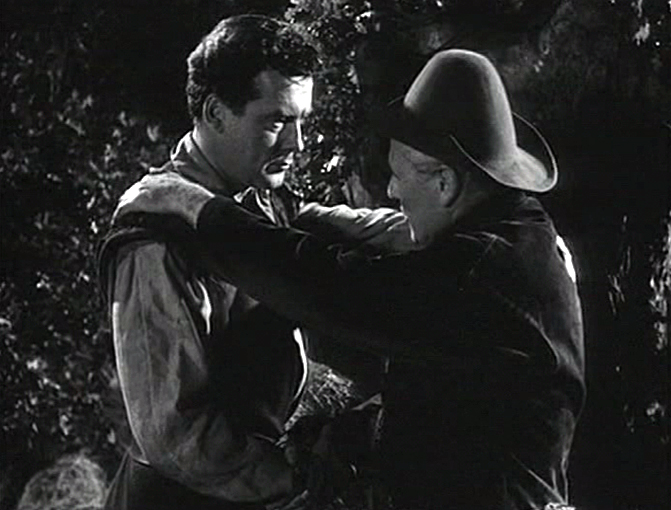 Richard Greene and Philip Ray.
The Adventures of Robin Hood (1957) While there is no specific mention of Freemasonry, much of the dialogue found in this episode would be significant to a freemason. When Walter is first seen he has just been addressed as Master Walter, to which he replies, "Yes, Diccon [pronounced 'deacon'], what is it?" [00:01:52] When Walter is imprisoned, he exclaims to Sir Blaise, "You have no right to hold me. I'm a freeman, answerable only to the king and my conscience." Later, Diccon explains masonry to Robin: "It isn't easy being a mason. A mason must be able to work with different kinds of stone, to design buildings and work up plans." Robin: "Can you do all that? Diccon: "Oh no, I'm only an apprentice. But I've learned a great deal since I went to work for Walter two years ago. In another five years I hope to be a Master Mason myself." Robin: "Seven years! I didn't know it took that long." Diccon: "Oh, there's a lot to learn, And to begin with there's the seven sciences [sic] : grammar, logic, rhetoric, astronomy, music, geometry and arithmetic." Robin: "Is that all?" Diccon: "No. There's also the discipline. An apprentice must be faithful to the church, the state and the master under whom he works. He must be honest and truthful, and faithful in the secrets of the craft. There are signs and symbols that only masons know." [00:07:28 - 00:08:20] Diccon: "Our code calls for us to help each other in trouble."[00:09:52]
| | |
| --- | --- |
| | Masons Lodge [00:18:45] |
Walter: "No mason has the right to turn down a legitimate offer of work." [00:16:16] Walter of Norbury initiates Robin hood with his version of the five points of fellowship: Walter: "I'll make you a speculative mason." Robin: "A speculative mason?" Walter: "Yes. Many eminent men from architecture and art study with us and when we don't want to give away our trade secrets to outsiders we make them masons, masons of the mind. We call them speculative masons. Robin, come with me." Walter: "First, put your foot to mine, your knee to mine, your hand to mine, your hand upon my back." Robin follows Walter's instructions and then Walter intones: "There's marrow in these bones." Stepping back, Walter then tells Robin, "Now you can freely enter any mason's lodge. Welcome, brother." [00:18:00] To foil Sir Blaise's plans to turn the church into a fortress Robin, disguised as "Master Robert", sells his services to Sir Blaise and returns with him where they discover the church completed. When Sir Blaise refuses to pay Robin, Robin exclaims: "Now you pay me or I'll report you to the masons, and you know what that means!"
TELEVISION INDEX | CINEMA INDEX
The Adventures of Robin Hood (1975). "The Mark" (episode 88, 3.10) Directed by Robert Day, written by Robert Newman. Richard Greene, Alexander Gauge, Archie Duncan, Victor Woolf, Charles Gray, Philip Ray, Kenneth Cope, Llewellyn Rees. 2 December 1957 (UK) ITV, 30 min. mono, black & white.