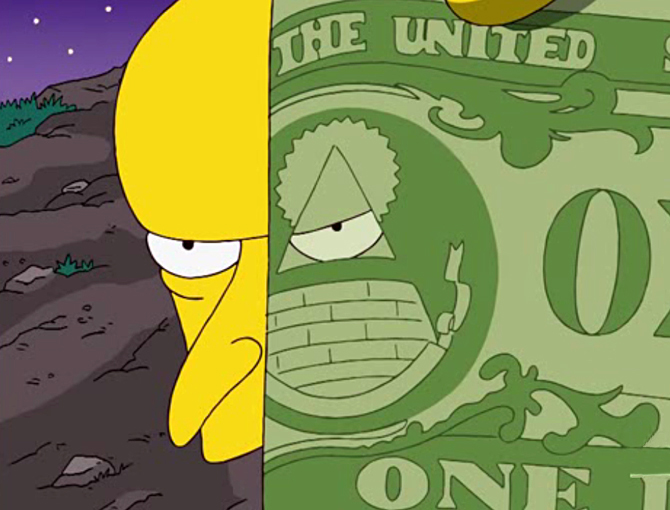 Charles Montgomery Burns, voiced by Harry Shearer.
The Simpsons (2009)
The main plot of this episode loosely parodies National Treasure and The Da Vinci Code.
Skinner: "...a group of high ranking freemasons lead by Ben Franklin, George Washington and King George the third staged a phony War of Independence to cover their search for the gem." [00:14:00]
Note that George III was not a freemason.
Burns: "You see my dear girl, I joined the freemasons before it was trendy. That's my eyeball on the dollar bill. That's also my pyramid" [00:15:50]
The Simpsons. "Gone Maggie Gone", 15 March 2009 (Season 20, Episode 13). Directed by Chris Clements, written by Billy Kimball, Ian Maxtone-Graham, Matt Groening, James L. Brooks. Dan Castellaneta, Julie Kavner, Nancy Cartwright, Yeardley Smith, Hank Azaria, Harry Shearer, Ed Begley Jr., Pamela Hayden, Tress MacNeille, Maggie Roswell, Karl Wiedergott. 21 min. USA, English, Color, Dolby. Episode no. 433. Prod. code LABF04.
TV INDEX