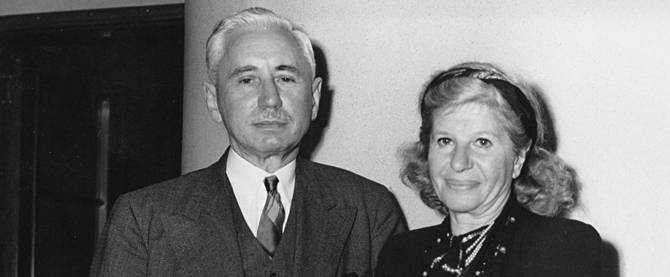 Will and Ariel Durant, 1948.
The Story of Civilization
William James Durant (1885/11/05-1981/11/07) a prolific American writer, historian, and philosopher, is best known for the eleven-volume The Story of Civilization, written in collaboration with his wife Ariel Durant (1898/05/10-1981/10/25) and published between 1935 and 1975. Scorned by many academic historians, who accused them of shoddy scholarship and an over-reliance on secondary sources, the superb organization of their books, combined with an eminently readable style, won the Durants millions of fans. Ariel and Will Durant were awarded the Pulitzer Prize for General Nonfiction in 1968 for Rousseau and Revolution, the tenth volume of The Story of Civilization. In 1977 they were presented with the Presidential Medal of Freedom from Gerald Ford and Ariel was nominated as "Woman of the Year" by the city of Los Angeles. The Durants' autobiography A Dual Autobiography was published in 1978. Masonic references appear in five of the eleven volumes. Part Two The Life of Greece (1939) Part Eight The Age of Louis XIV (1963) Part Nine The Age of Voltaire (1965) Part Ten Rousseau and Revolution (1967) Part Eleven The Age of Napoleon (1975) Copyright © by Will and Ariel Durant Copyright renewed © 1989 Exclusive electronic rights granted to World Library, Inc. by The Ethel B. Durant Trust, William James Durant Easton, and Monica Ariel Mihell.
PUBLIC PERCEPTIONS | HISTORY| NON-FICTION