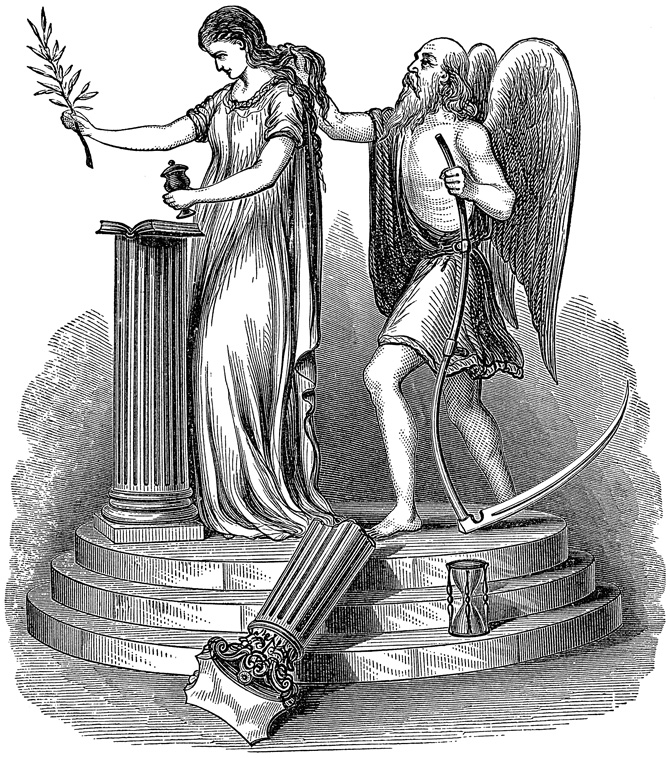 Image from Craft Masonry; or, part first. Manual of the Ancient York Rite by Will. M. Cunningham. New York : D. B. Howell & Co., No. 434 Broadway, 1874. 164 p. list 6p. 12 cm x 29 cm. p. 75. Download JPG file.
Burial Place of a Master Mason

---
The introduction and history of the monument should be of interest to all students of masonic symbolism. While Jeremy L. Cross is often credited with devising this grouping of symbols, it clearly predated his writings. Albert Pike had his own curious interpretation of this relatively recent addition to masonic iconography, one that was repeated by others at the time. Click on the buttons to view larger versions of the images, and read about the history of each one. You also have the option of downloading TIF files suitable for print reproduction or JPEGs suitable for website use.
"The first suggestion of a monument for Hiram is thought to have been presented in A Brief History of Freemasonry, 1782, by Thomas Johnson, Grand Tiler of the Grand Lodge of England, a second edition of which was issued in 1784. It represented a Design for a Monument, in Honor of a Great Artist, which showed an urn on the top and above was a square and compasses, and below the urn was a book, square and compasses, intertwined with laural. The book represents either the Holy Bible or the book detailing his life.

"The letter G is shown on the urn and on one side of the monument is the Sun and on the other side the Moon.
In the Monitor of 1817 by John Barney there is represented a Marble Column, the beautiful Virgin weeping, the Open Book, the sprig of Acacia, the Urn, and Time standing behind. Evidently all that Cross added was the Broken Column. Since there is no reference to a monument in Preston's lectures of 1772, its introduction was between that time and 1817 and probably about 1782." Coil's Masonic Encyclopedia. Henry Wilson Coil. Macoy Publishing and Masonic Supply Co. Inc., Richmond, Virgina: 1996 [ISBN 0-88053-054-5].
---
Click on the images for larger versions, historical notes, and links to download print quality TIF file images.