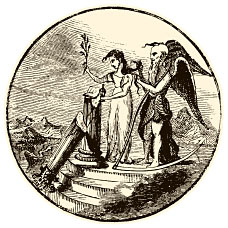 Reproduced from The Miniature Monitor containing all the Monitorial Instructions in Blue Lodge Masonry, of Thomas Smith Webb. compiled by Rob Morris. Clark & Maynard, New York: 1872. (page. 114).
(Image 1 3/4" x 1 3/4" printed size; 3 1/4" x 5" page size)

Download a 158k black and white LZW compressed tif file.

View a later variant of this treatment.