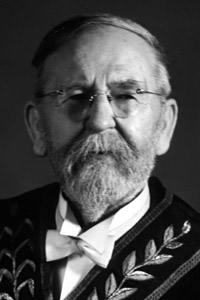 Grand Lodge Archives Photo
November 9, 1860 - December 24, 1950 John James Miller was a Vancouver pioneer, active in his community and in Freemasonry. Born in New South Wales where he was mayor of Cootamundra in 1892, he moved to Vancouver in 1903, entered the real estate business and later was elected a civic alderman. He was instrumental in establishing the Vancouver Exhibition (later the Pacific National Exhibition) in 1910 and was president for thirteen consecutive years. When he retired he was created Honorary Life President. JJ was the founding Worshipful Master of Lodge Southern Cross No. 44 in 1906, an office he held again in 1941-42. Held in high regard for his enthusiasm for Freemasonry, he received Honorary Life Memberships from seven lodges. He was for many years Grand Representative for New Zealand and was elected Honorary Past Grand Master in 1948. He wrote Vancouver to the Coronation published in 1911. He was also a contributor to several masonic journals, and author of 44 years History of Lodge Southern Cross Number 44, BCR 1906-1950. Initiated: 10 June 1885
Worshipful Master: 1891-1892
Cootamundra St. John Lodge No. 640/124, SC/GRNSW
Grand Inspector of Works: 1898
New South Wales
D.D.G.M.: 1909-1910
District No. 2, BCR Source: Masonic Bulletin, Vol. XII, No. 3, pp. 17-18; and Vol. XIV, No. 6, pp. 41-42, "In Memoriam" by L. Healey, SGW; Grand Lodge of British Columbia History, pp. 319-20. Other photos: Vancouver Public Library Special Collections, photo no. 22746, 22747, 25503, 27721 (Royal Arch regalia), 43283 (Shrine regalia).