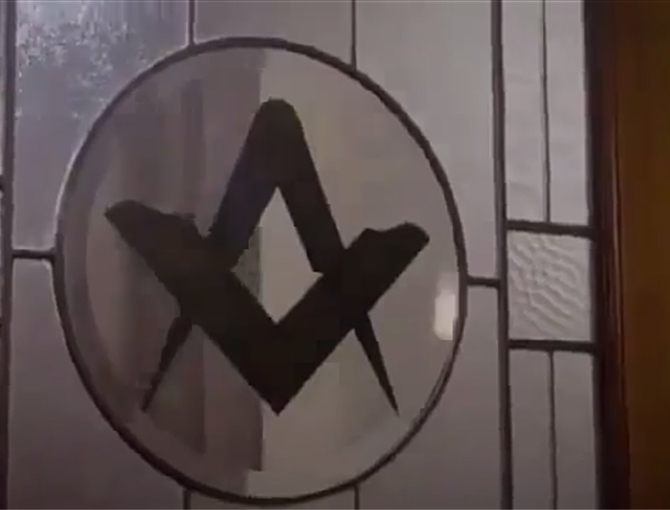 Stained glass doors [00:15:30]
The Doctor Blake Mysteries (2015)
| | |
| --- | --- |
| | Coin reverse [00:29:30] |
When half a coin is found in murder victim, Neville Franklin's stomach [00:05:30], the investigation leads Dr Lucien Blake to discover that not only was Franklin the Worshipful Master of Ballarat Masonic Lodge, but that his murderer, Doug Ashby, and the murderer of Blake's mother forty years earlier, Jock Clement, were both Freemasons. Then his Chief Supt. William Munro, also a Freemason, is discovered to have tampered with evidence and attempted to protect his masonic brothers—and protect himself. The coin was Jock Clement's "initiation coin", given to him by Neville Franklin. Clement describes the coin: "It was my initiation coin. When you're initiated you have to have nothing in your pockets, they check to make sure. And at some point they say to be accepted you have to make payment no matter how small. Oh, yes, they let you squirm. Then a brother steps forward, gives you a ceremonial coin to buy passage.... it shows you can always rely on your fellow Masons for help."
| | |
| --- | --- |
| | Coin obverse [00:05:30] |
During the episode, Blake explores what appears to be an actual lodge room, handles a set of working tools, and discovers an Entered Apprentice tracing board. Although the coin obverse bears a passing resemblance to a Royal Arch penny, the fanciful tale of its presentation and other details of the lodge workings suggests a deliberate obfuscation of actual lodge practices. Even then, the depiction of Freemasons is a particularly negative one and places this episode squarely in the anti-masonic category. The Doctor Blake Mysteries "Darkness Visible" (3 April 2015, season 3 episode 8). Directed by Declan Eames, written by Stuart Page, created by George Adams and Tony Wright, story editor, Paul Jenner. Craig McLachlan, Nadine Garner, Charlie Cousins, Cate Wolfe, Joel Tobeck, Craig Hall, John Wood, John Stanton, Belinda McClory, Lee Beckhurst, Jacqui Maloney, Dylan Watson, Phil Lenhart, Danny Ellerton, Bruce Barnes. Australia, English, 56 min, Colour.
TELEVISION INDEX