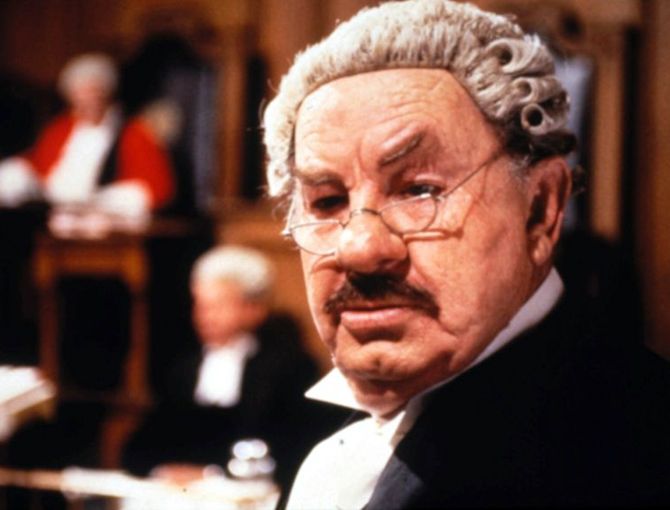 Leo McKern.
Rumpole of the Bailey (1991)
The suspect in a murder trial is a member of the mason-like "Ancient Order of Ostlers" complete with secret handshakes, apron and collar jewel with, in this instance, a horseshoe. "You couldn't get anywhere in Gunster unless you were an Ostler." Rumpole: "A what? "An Ostler. The Ancient Order of Ostlers. It's rather like the Freemasons only more so. Well, my uncle didn't hold with it and they squeezed him out" Rumpole: "Well, did he tell you what they did, these Ostlers, or whatever they call themselves?" "Oh, all sorts of secret ceremonies, I believe. Mumbo jumbo, uncle Marcus said. They also had a very peculiar handshake. He showed me." [00:18:30] "...one of these fellows in a leather apron and guantlets and a bloody great gilded horseshoe hung round his neck was just about to slink into the private dining room, swear some terrible oath of secrecy or to offer to have his throat cut if he ever let on what they get up to. They do that, apparently." [00:24:40] Rumpole: "Are you an Ostler?" Sir Denis Tolson : "By the Great Blacksmith and Forger of the Universe. Rumpole: "And that means that you are." Sir Denis Tolson: "It does not permit us to reveal our secrets." [00:35:50] A brief shot of the "regalia" is shown at [00:33:35].
Rumpole of the Bailey. "Rumpole and the Right to Silence", Season 6, episode 33 (11/11/1991). Directed by Julian Amyes, written by John Mortimer. Leo McKern, Marion Mathie, Patricia Hodge, . UK, English, 51 min.
TV INDEX | FRATERNITIES INDEX