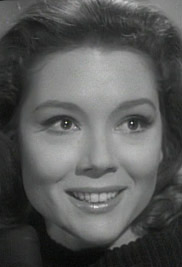 Diana Rigg as Mrs Emma Peel.
A-Haunting We Will Go (1942)
Laural and Hardy remark that they once belonged to a lodge. [00:38:00] Directed by Alfred L. Werker, written by Lou Breslow. Stan Laurel, Oliver Hardy, Dante, Sheila Ryan, John Shelton, Don Costello, Elisha Cook Jr., Edward Gargan, Addison Richards, George Lynn, James Bush, Joe Morgan, Lou Lubin, Robert Emmett Keane, Richard Lane, Willie Best. 68 min. USA, English, Black and White, Mono. The Best of Times (1986)
The Loyal Order of Caribou [00:32:30], whose membership play a key part in the story and whose handshake [00:33:22] adds a comic touch, originally appeared in the Blondie comedy television show and a panel of Jimmy Hatlo's They'll Do It Every Time about poor Schnookly, the hard-working club man, as well as an episode of Everybody Loves Raymond. Directed by Roger Spottiswoode, written by Ron Shelton. Robin Williams, Kurt Russell, Pamela Reed, Holly Palance, Donald Moffat, Margaret Whitton, M. Emmet Walsh, Donovan Scott, R.G. Armstrong, Dub Taylor, Carl Ballantine, Kathleen Freeman, Tony Plana, Kirk Cameron, Robyn Lively. USA, English, 104 min., Dolby, Technicolor. The Big Idea (1934)
Eddie Bartell, as one of the "Three Radio Rogues" Imitates Amos n' Andy and has Kingfish say " Well, boys, don't fight. Always remember that we is all brothers in that great fraternity, the Mystic Knights of the Sea." [00:10:10] See Check and Double Check, below. Directed by William Beaudine, written by Matt Brooks, Ted Healy, Moe Howard. Ted Healy, Moe Howard, Larry Fine, Curly Howard, Bonnie Bonnell, Muriel Evans, Three Radio Rogues, M-G-M Dancing Girls. 19 min. USA, English, black and white, Mono. (Comedy). * Bimbo's Initiation (1931)
Bimbo the dog refuses to be initiated into the Mystic Order of the Boom Boom a Hatcha by robed figures until he discovers that Betty Boop leads the group. Directed by Dave Fleischer, animator Myron Natwick. Mae Questel (13 September 1908 - 4 January 1998) as the voice of Betty Boop. 6 min. USA, English. Black and White, Mono (Animation). * Check and Double Check (1930)
Amos 'n Andy's lodge, the Mystic Knights of the Sea, plays a role in this, the only, movie made by this popular 1930s radio comedy team. Members of the lodge wear fezzes and vote in a manner burlesquing that used in Freemasonry. Freeman F. Gosden, Charles J. Correll. Produced by William LaBaron. Story, dialogue and music by Bert Kalmar, Harry Ruby. Directed by Melville Brown. RKO Radio Pictures. 85 min., USA, English, Black and White (Comedy). * Hearts are Thumps (1937)
The He-man Women-haters club was created by George Robert Phillips "Spanky" McFarland (1928/10/02- 1993/06/30) and immediately joined by Carl "Alfalfa" Switzer (1927/08/07 - 1959/01/29) and William 'Buckwheat' Thomas (1931/03/12 - 1980/10/10). Hal Roach Presents Our Gang In "Hearts are Thumps". Directed by Gordon Douglas, photography - Art Lloyd, Film editor - Bert Jordan, Sound - William Randall. Metro-Goldwyn-Mayer Picture. Approved MPBA certificate no. 3001 Copyright MCMXXXVII (1937) USA , English. Black and White, Mono. (Family / Comedy / Short). * The High Sign (1920) Buster unwittingly is initiated into a secret society of assassins, The Blinking Buzzards, where he takes a bloody oath with his hand on a skull, and is given the secret knock and hand sign. Joseph M. Schenck Presents "Buster" Keaton in The "High Sign". Released exclusively through Metro Pictures Corporation. Written and directed by "Buster" Keaton and Eddie Cline. 1920. * Indiana Jones and the Last Crusade (1989) Kazim : "The secret of the Grail has been safe for a thousand years. And for all that time the Brotherhood of the Cruciform Sword has been prepared to do anything to keep it safe." [00:40:29] Kazim pulls open his shirt to reveal a cruciform sword tattoo. Directed by Steven Spielberg, written by George Lucas and Philip Kaufman. Harrison Ford, Sean Connery, Denholm Elliott, Alison Doody, John Rhys-Davies, Julian Glover, River Phoenix, Michael Byrne, Kevork Malikyan, Robert Eddison, Richard Young, Alexei Sayle, Alex Hyde-White, Paul Maxwell, Isla Blair. 127 min USA English / German / Greek. Colour, Dolby. * The Kaiser's Lackey (1951) The Neo Teutons student fraternity as a parody of the Thule SocietyDer Untertan "The Kaiser's Lackey" (1951). Directed by Wolfgang Staudte, written by Heinrich Mann (novel "Der Untertan"), Fritz Staudte, Wolfgang Staudte. Werner Peters, Paul Esser, Renate Fischer, Ernst Legal, Raimund Schelcher, Eduard von Winterstein, Friedrich Maurer, Sabine Thalbach, Hannsgeorg Laubenthal, Friedrich Gnaß, Wolfgang Kühne, Fritz Staudte, Wolfgang Heise, Axel Triebel, Arthur Schrüder. 97 min | West Germany:109 min. East Germany, German, Black and White, Mono. * Lost in Space (1965-1968) Between dropping out of Oxford and entering Harvard, Dr. Zachary Smith, played by Jonathan Harris, was approached by Aeolus Umbra, a secret organization dedicated to undermining America's interstellar flight programme. Aeolus was the Greek god of winds, and the umbra, Latin for shadow, ghost or spirit, is the darkest part of a shadow. Created and produced by Irwin Allen, starring Guy Williams, June Lockhart, Mark Goddard, Jonathan Harris, Marta Kristen, Angela Cartwright, Bill Mumy, Bob May. Widely quoted online but citation unavailable. A Modern Cinderella (1932)
Mr. Ragusa (Adrian Rosley) : "Tonight!? Me and the Professor Giuseppe, we got to attend the lodge meeting!" [00:01:45] Directed by Roy Mack, Written by A. Dorian Otvos, Burnet Hershey. Ruth Etting, Adrian Rosley, Barbara Child, Brian Donlevy. 17 min. USA, English. Black and White, Vitaphone [Production Reels 1460-1461] * Mr. Moto's Last Warning (1939)> The image of a cross pattée beneath a crescent, displayed on a matchbook, is used to identify conspirators for an unnamed foreign power, plotting to blow up a British fleet. [00:10:40] Directod by Norman Foster, written by John P. Marquand, Philip MacDonald. Peter Lorre, Ricardo Cortez, Virginia Field, John Carradine, George Sanders, Joan Carroll, Robert Coote, Margaret Irving, Leyland Hodgson, John Davidson 71 min. USA, English, Black and White, Mono. * Oddball Hall (1990) Two aged jewel thieves hide out in a small African nation while their hot gems cool off. Posing as leaders of a fictitious fraternity called the Oddballs, they are mistaken for witch doctors. Don Ameche as G. Paul Siebriese, Burgess Meredith as Ingersol and Graham Armitage as the Grand Noble Master. Directed by Jackson Hunsicker, 87 min, USA, English. Red Green's Duct Tape Forever (2001) Harold, played by Patrick McKenna, is initiated into the International Possum Brotherhood, Chapter 11 whose motto is "UANDO OMNI FLUNKUS MORITATI". Also shown in the TV show. Steve Smith, Patrick McKenna, cameos: Ronnie Hawkins, Dave Broadfoot. Produced by Sari Friedland, written by Steve Smith, Directed by Eric Till. TVA Films. Possum Lodge Productions Inc. 91 min., Canada, English, Colour, Dolby. (Comedy). * The Old Fashioned Way (1934)
The Great McGonigle crosses paths with the Grand Mogal of the High Chamber, Secret Order of the Veiled Knights of Matthius. [00:12:00] Directed by William Beaudine, written by Jack Cunningham and W.C. Fields. W.C. Fields, Joe Morrison, Baby LeRoy, Judith Allen, Jan Duggan, Tammany Young, Nora Cecil, Jack Mulhall, Samuel Ethridge, Ruth Marion, Richard Carle, Larry Grenier, William Blatchford, Jeffrey Williams, Donald Brown. 70 min. USA, English, Black and White, Mono. Peggy Sue Got Married (1986)
Peggy Sue's grandfather belongs to a time travellers lodge with the unexplained initials, M.O.O.E.. Kathleen Turner, Nicolas Cage. Directed by Francis Ford Coppola. * The Plot Against Harry (1989)
The Mystic Knights of the Sojourners use an initiation ritual. [00:56:00] Mention is also made to the "Children's Hospital of our Noble Order." While not masonic, the use of an all-seeing eye, the scimitars, aspects of the ritual, and the reference to a children's hospital are suggestive. Directed by Michael Roemer, written by Michael Roemer. Martin Priest, Ben Lang, Maxine Woods, Henry Nemo, Jacques Taylor. Jean Leslie, Ellen Herbert, Sandra Kazan, Ronald Coralian, Max Ulman, Louis Basile, Margo Ann Berdeshevsky, Ethel Burke, Stephen Cheng, Sarah Christie, Christopher Cross, Hollis Culver, Shirley Ann Davis, Angelo DeLuca, Ron Fredrics. 81 min. USA, English, Black and White, Mono. * The Rounders (1914) Charlie and Roscoe, playing late-night revellers, recognize each other as members of the same lodge when they give the recognition sign by placing the right thumb in the right ear and wiggling the fingers, shake hands and inspect each other's lapel pin. The title card reads "The same lodge." [00:04:10] They then steal their wives' purse money and head for the latest nightclub. Directed by Charles Chaplin, written by Charles Chaplin, produced by Mack Sennett, cinematography by Frank D. Williams. Charles Chaplin, Roscoe 'Fatty' Arbuckle, Phyllis Allen, Minta Durfee, Al St. John, Jess Dandy, Wallace MacDonald, Charley Chase, Cecile Arnold , Dixie Chene, Edward F. Cline, Ted Edwards, Billy Gilbert, William Hauber, Edgar Kennedy. 16 min. USA, English. Black and White, Silent. Keystone Farce Comedy , Keystone Film Company, New York. Sept 7, 1914. * The Seventh Victim (1943) A parallogram with a split triangle is presented as the symbol of the Paladists, a Greenwich Village society of devil worshipers—lovers of evil who believe in satanic majesty and power. Although pledged to non-violence, whoever betrays them must die. [00:39:00] The pentagram is notable by its absence. Directed by Mark Robson, written by DeWitt Bodeen. Charles O'Neal Tom Conway, Jean Brooks, Isabel Jewell, Kim Hunter, Evelyn Brent, Erford Gage, Ben Bard, Hugh Beaumont, Chef Milani, Marguerita Sylva The 7th Victim (USA) (promotional title) Runtime: 71 min Country: USA Language: English Color: Black and White Sound Mix: Mono. Sherlock Holmes (2009) Although Freemasonry is never mentioned, the casual viewer with a minimal awareness of esoteric, alchemical, and hermetic symbols will mistakenly identify the fictional secret society, the Temple of the Four Orders, with Freemasonry. [01:01:19] Directed by Guy Ritchie, written by Michael Robert Johnson, Anthony Peckham. Robert Downey Jr., Jude Law, Rachel McAdams, Mark Strong, Eddie Marsan, Robert Maillet, Geraldine James, Kelly Reilly, William Houston, Hans Matheson, James Fox, William Hope, Clive Russell, Oran Gurel, David Garrick. USA|Germany|UK, English|French, 128 min. Dolby, Colour. * Smile (1975) Paul Benedict—as wise-cracking undertaker, Orren Brooks—is Master of Ceremonies at a lunch meeting of the Bears Club, Santa Rosa chapter of Bears International. [00:21:34] Directed by Michael Ritchie, written by Jerry Belson. Bruce Dern, Barbara Feldon, Michael Kidd, Geoffrey Lewis, Nicholas Pryor, Joan Prather, Denise Nickerson, Melanie Griffith, Annette O'Toole, Maria O'Brien, Colleen Camp, Caroline Williams, Kate Sarchet, Dick McGarvin, William Traylor. 117 min. USA, English. Color, Mono. Sons of the Desert (1933)
Fezz-wearing Stan and Ollie go to a convention styled after the Shriners, returning home to learn that honesty is the best policy. Stanley Laural and freemason Oliver Hardy, Charley Chase. Directed by Lloyd French & William A. Seiter, written by Frank Craven. 73 min. b&w (Comedy). * Stand by me (1986)
A campfire story about a pie eating contest includes a scene with a band from the Benevolent Order of Antelopes. Wil Wheaton, River Phoenix, Corey Feldman, Jerry O'Connell, Kiefer Sutherland. Directed by Rob Reiner, written by Stephen King, Raynold Gideon. 89 min. USA, English. Technicolor, Mono. The Triumph of Sherlock Holmes (1935) The mark of the Scowerers, a secret society that terrorized the coal districts of the US." is shown several times. [00:31:00] Also ses Sir Arthur Coan Doyle's The Valley of Fear. Directed by Leslie S. Hiscott, written by Arthur Conan Doyle, H. Fowler Mear. Arthur Wontner, Lyn Harding, Leslie Perrins, Jane Carr, Roy Emerton, Conway Dixon, Wilfrid Caithness, Edmund D'Alby, Ernest Lynds. 75 min. UK, English, Black and White, Mono. * The Adventures of Ozzie and Harriet (1945) Big Band leader Ozzie Nelson and his wife, singer Harriet Nelson (née Hilliard) launched their radio careers on October 8, 1944, moving to television on October 10, 1952, staying until September 3, 1966. In one early radio episoide Ozzie is initiated into "The Amiable and Antique Order Of Prehistoric Monsters." No mention is made of the freemasons but several others get a mention. The lodge hall is also the scene of episode 187 "Crystal Ball" (Airdate 49/03/06). Episode 42, "Lodge of Unicorns" Airdate : 16 September 1945. Ozzie Nelson, Harriet Hilliard, Joel Davis, Henry Blair, Verne Smith (announcer), The King Sisters. 29:42. ia331304.us.archive.org Sam 'n' Henry (1926) Freeman Gosden and Charles Correll, in their first series, "Sam 'n' Henry" (January 1926-December 1927), played Sam Smith and Henry Johnson. They often became involved with petty confidence men, notably one identified only as "The Most Precious Diamond," the head of a fraternal order called "The Jewels Of The Crown." Gosden and Correll wrote all the scripts and played all the characters. Vic and Sade (1939) Vic needs his Sacred Stars of the Milky Way lodge regalia for a special meeting, but is upset when he finds that the various items have been loaned out all over town. Episode: "Lodge Regalia on Loan" broadcast 2 January 1939 (VS390102). Art Van Harvey as Victor R. Gook, Bernadine Flynn as Sade Gook, Bill Idelson as Rush Gook, and Clarence Hartzell as Uncle Fletcher. Written by Paul Rhymer (b. 1905). In over 3,600 fifteen-minute episodes, broadcast from June 29, 1932 until September 29, 1944, at least eighteen episodes incorporate the Sacred Stars of the Milky Way lodge into the story. 'Allo 'Allo Townsman: "My braces."
Richard Marner as Col. Von Strohm "Why did this man give you his braces?"
Gorden Kaye as Rene Artois "It's a secret society, Colonel. Yes. It is the Grand Order of the, uh... of the, uh...."
Carmen Silvera as Edith Artois: "...Of the Night Owls."
"Of the Night Owls, Yes, that is right. The Grand Order of the Night Owls. I am the Grand Master."
Carmen Silvera as Edith Artois: "He is the Big Hoot."
"That man has just been initiated. Yes, for three weeks he must go around with no braces." 'Allo 'Allo, Series 3 (1986-87) Episide 3.4: "Flight of Fancy", 1986/12/26, BBC-1. Created and written by Jeremy Lloyd and David Croft. Starring Guy Siner, Kim Hartman, Richard Gibson, Vicki Michelle, Arthur Bostrom, Francesca Gonshaw, Carmen Silvera, Gorden Kaye, Rose Hill, Jack Haig, Richard Marner, Sam Kelly, Kirsten Cooke. [00:20:11] * The Andy Griffith Show (1966) Andy puts Howard up for membership in the Regal Order of the Golden Door to Good Fellowship, a private Mayberry men's club. The Lodge. Written by: Jim Parker and Arnold Margolin. Directed by: Lee Phillips. Andy Griffith, Ronny Howard, Frances Bavier, Jack Dodson as Howard Sprague. Season 7: 1966-67 Episode 192 (C). In an earlier episode Barney had commented: "Maybe he's a long lost cousin, or a lodge brother or something." High Noon in Mayberry [00:03:54] Season 3, No. 17, Episode 81, 21 January 1963. [Also see masonic references.] * The Ant and the Aardvark The Ant's fez-wearing lodge brothers from Brothers of the Forest Lodge 202 come to his rescue and ruin the Aardvark's plans. Mirisch-DePatie-Freleng Productions, United Artists(theatrical release). Voices: John Byner. Directed by Art Davis, produced by David H. DePatie, Friz Freleng, written by John W. Dunn. (NBC : September 27, 1970: Season 1, Episode 13 on The Pink Panther Show) The Avengers (1966) Diana Rigg (Mrs Emma Peel) joins a a re-creation of the original Hellfire Club. The Avengers. Season 4, episode 21 (99) "A Touch of Brimstone" February 19, 1966 on ITV1. Patrick Macnee (John Steed), Diana Rigg (Mrs Emma Peel). Written by Brian Clemens, directed by James Hill. * The Dick Van Dyke Show Rob Petrie approaches two conventioneers from the Seals Lodge who are sitting in a bar watching a televised boxing match. One of them accuses Rob of being an Odd Fellow. [00:08:00] Episode Season Five, episode 149 "Bad Reception in Albany". (9 March 1966). Directed by Jerry Paris, written by Garry Marshall, Jerry Belson. The Flintstones (1960-1966) Fred Flintstone and Barney Rubble belong to the Water Buffaloes. * Futurama (2009) The Grand Curator of the Ancient Legion of Mad Fellows explains that their commune has been "monitoring the universe's life energy for, like, a really long time, and we're grokking some super-weird junk." [00:35:45]. * The Honeymooners (1952-1970) Ralph Cramden (Jackie Gleason) and (Art Carney) belong to the Raccoons. * Road to Avonlea (1990 - 1996) Alec King (Cedric Smith), father of Felicity, Felix, and Cecily, and married to Janet, is referred to in several episodes as belonging to a "lodge". In the episode "Fools and Kings" the type of lodge that Alec attends is revealed to be the Knights of Prince Edward Island. The "Road to Avonlea" series ran on the Canadian Broadcasting Company (CBC) 1990 - 1996 (91 one-hour episodes). Director, Kevin Sullivan; co-writer Joe Wiesenfeld; freely adopted from the Anne of Green Gables serial novels of Lucy Maud Montgomery (1874-1942). Sealab 2021 (2004)
The episode opens with the captain's initiation into a secret cult parodying Freemasonry, the Flintstones' Water Buffaloes and the Illuminati. Later, the crew discuss the Brotherhood in terms of unified conspiracy theories. Serial Experiments Lain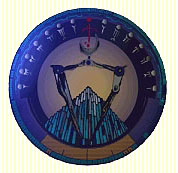 A Japanese anime series released in the 1990s, Serial Experiments Lain creates a future version of the internet called the Wired. The Knights of Eastern Calculus are a group of unidentified computer crackers searching for Truth. Whether the Men in Black are their allies or enemies is unclear. Their logo makes use of a stylized compasses and arc and a pyramid-shaped mountain. Lain includes not only an anime series but also games and music. Trianglestaff, Pioneer LDC 1998. Directed by Ryutaro Nakamura, written by Chiaki J. Konaka, Original character design by Yoshitoshi Abe, Character designs by Takahiro Kishida, COS created by Jyunji Nakahara, Music by Reiichi "Chabo" Nakaido, Concept by Yasuyuki Ueda. The Simpsons (1995) Episode 2F09 Homer the Great. Written by John Swartzwelder. Directed by Jim Reardon. Original airdate 1995/01/08. Homer joins the Stonecutters, a secret fraternity. Grampa finds his masonic membership card. SpongeBob SquarePants (2009) Episode 115b Cephalopod Lodge. The Cephalopod Lodge meets on the third Wednesday of each month in a pyramid-shaped building decorated with an all-seeing eye. Season 6 Episode 29. Created by Stephen Hillenburg, directed by Luke Brookshier, Nate Cash, written by Luke Brookshier, Nate Cash and Richard Dursel. Squidbillies Both conspiracists and the use of investigation boards in contemporary movies and television are parodied when Early Cuyler investigates the "Knights of the Noble Order of the Mystic Turquise Goblet". References are made to such real-world conspiracy theories as lizard people, the Clintons, the all-seeing eye, former president Barack Obama's birth certificate, extra-terrestrial invasion and floridation. "The Knights of the Noble Order of the Mystic Turquoise Goblet". Season 11 Episode 4 (5 November 2017). Directed by Jim Fortier, Craig Hartin, written by Jim Fortier, Alan Steadman, voiced by Unknown Hinson (Stuart Daniel Baker), Daniel McDevitt, Dana Snyder. 11 min. The Thin Blue Line In one episode of this short-lived comedy series set in an urban police station, CID Detective Inspector Derek Grim, played by David Haig, attempts to join a secret society called the Todgers [00:27:24]. There are also several references to Freemasonry. A Tiger Aspect production for BBC-TV, produced and written by Ben Elton and Geoffrey Perkins, directed by John Birkin. Episode Number 9 (Series 2, episode 2): "Ism Ism Ism" (November 21, 1996) Guest Stars: Lucy Robinson (as Mayoress Wickham) Melvyn Hayes (as Chief Todger) Colin McFarlane (as European Commissioner) [00:35:30]. Twin Peaks The Bookhouse Boys are a secret society formed, some twenty years prior to the time frame of the series, to combat the darkness surrounding the town of Twin Peaks. They have their own secret gesture, a stroke with a finger on the temple. Created by David Lynch and Mark Frost. Kyle MacLachlan, Michael Ontkean, Mädchen Amick, Dana Ashbrook, Richard Beymer, Lara Flynn Boyle, Joan Chen, Sherilyn Fenn, Warren Frost, Piper Laurie, Sheryl Lee, Peggy Lipton, James Marshall, Everett McGill, Jack Nance, Kimmy Robertson, Ray Wise. USA, 8 April 1990 - 10 June 1991. The Adventure of the Red-headed League (1891) A client of Sherlock Holmes is taken in by the League of Red Headed Men. A Treasury of Sherlock Holmes. Sir Arthur Conan Doyle. Hanover House, Garden City, New York: 1955 [p. 222-23]. The Dog Andrew (1920) "Bonnie Doon got the case for us off his local district leader, who's a member of the same lodge of the Abyssinian Mysteries—Bonnie's been Supreme Exalted Ruler of the Purple Mountain for over a year—and he's pulled in quite a lot of good stuff, not all dog cases either! Appleboy's an Abyssinian too." Tutt and Mr. Tutt. Arthur Train. New York : Bantam Books, 1946 pb. [p. 118]. Romance at Droitgate Spa (1937) "That is Uncle Joe, taken in the masonic regalia of a Grand Exalted Periwinkle of the Mystic Order of Whelks." A 1975 television dramatization deletes the word, "masonic", while some reprints substitute the word "lodge".
1937/02/20 Saturday Evening Post (US), 1937/08 Strand (UK), Eggs, Beans and Crumpets, London : Herbert Jenkins, 1940. Gasoline Alley (1923) Bill has been a member of the fictional I.O.G.D., the Independant Order of Gay Dogs for about three years, while Mr. Wicker was Grand Exalted Great One twice—in the days when gay meant uninhibited and carefree. Walt & Skeezix Book Two, Gasoline Alley Selections from 1923 - 1924. Frank King. Montreal : Drawn & Quarterly Books ; New York : Distributed in the United States and abroad by Farrar, Straus and Giroux, 2005- . ISBN: 1-896597-99-8 "Neptunati" (July 18, 2004) Season 3 No. 39. Production Code: 2403. Produced by Keith Crofford and Mike Lazzo, created by Adam Reed and Matt Thompson. Kate Miller, Michael Goz, Brett Butler, Ellis Henican, Bill Lobley, MC Chris. 12 min. United States, English, colour, Mono. The Adventures of Tintin (1955) Using the tomb of the Pharaoh Kih-Oskh as their secret hideout, an un-named gang of international drug-smugglers identify themselves to each other with the royal cipher of Kih-Oskh and the password "Kih Oskh" and "Gaipajama". The Adventures of Tintin, Cigars of the Pharaoh, "Hergé" Georges Prosper Remi (1907/05/22-1983/03/03). London : Methuen Children's Books, 1975. Artwork © 1955 Éditions Casterman, Paris and Tournai. Text © 1971 Methuen Children's Books. ISBN : 0 416 77420 2. 62 pp. 21.5 cm. x 29 cm. pp. 3, 55. The Saturday Bulletin (2009) "Later, the Brown Bear is denied membership." Not a masonic reference per se, but a reference to the perceived exclusiveness of fraternities in general. The Saturday Bulletin. October 26th, 2007, Issue #103: "Deeeenied". AXE personal hygene body spray (2006) In a commercial attempt to cash in on the current popular interest in secret societies, The Order of The Serpentine, "A sacred brotherhood helping young men overcome shame caused by questionable hook-ups", offers a "clean body, clean conscience" through the use of AXE personal hygene body spray, as well as a secret handshake: "It's easy. It's cool looking." Unilever/AXE Shower today. Also see "Exposing The Order of The Serpentine", MindShare Entertainment, Marobru Productions, Spike TV Thursday, February 23 at 9:30pm ET/PT. Ad agency: Bartle Bogle Hegerty, New York City: print media, national radio, college campuses, the Web, and wall murals in select cities. www.orderoftheserpent.com (01/2006) * Confirmed by the editor.