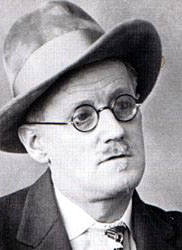 Berenice Abbott photo, 1929.
Irish novelist, short story writer, and poet, James Joyce (1882-1941) is widely regarded as one of the most important literary figures of the 20th century. While freemasonry is mentioned in his writings, the Grand Lodge of Ireland has no record of his membership and there is no other available documentation that he was ever initiated.
Masonic references in the writings of James Joyce
---
Joyce asked Frank Budgen in his letter dated Nov. 6, 1921 to send him "any little handbook of Brit. Freemasonry."3 Later Budgen informed Ulrich Schneider that he was not sure whether he sent such a book, but was inclined to think he did not.4 It suggests that Joyce already had some sources, because several allusions to Freemasonry were added to the text before that request. But it is very difficult to identify what sources Joyce used for the Masonic references. One plausible reference is Encyclopaedia Britannica, 11th ed. (1910-11), especially its entry, "FREEMASONRY." Another source, particularly for the Circe episode, would be A Ritual and Illustrations of Freemasonry (London, 1837) as Schneider says (304). Judging from the fact that Joyce inserted them in different stages after the Little Review series, Joyce used several books including a British or Irish Freemasonic source.

---

3. Letters, I, p.177. 4. Ulrich Schneider, "Freemasonic Signs and Passwords in the Circe Episode," 304. Excerpted from Is Leopold Bloom a Jewish Freemason? by Eishiro Ito. The full version is available in the Journal of Policy Studies, Vol. 3, No. 2 (Policy Studies Association, Iwate Prefectural University, December 2001) Copyright: Eishiro Ito.
Araby I asked for leave to go to the bazaar on Saturday night. My aunt was surprised, and hoped it was not some Freemason affair. "Araby" Joyce, James, 1882-1941. Dubliners, New York, B. W. Huebsch, 1916. 2 p.l., 7-278 p. 20 cm. first ed: 1910. ("Araby was probably composed c. 1905) Ivy Day In The Committee Room Mr. O'Connor shook his head in sympathy, and the old man fell silent, gazing into the fire. Someone opened the door of the room and called out: "Hello! Is this a Freemason's meeting?" "Who's that?" said the old man. "What are you doing in the dark?" asked a voice. "Is that you, Hynes?" asked Mr. O'Connor. "Yes. What are you doing in the dark?" said Mr. Hynes, advancing into the light of the fire. Portrait of the Artist The formula which he wrote obediently on the sheet of paper, the coiling and uncoiling calculations of the professor, the spectre-like symbols of force and velocity fascinated and jaded Stephen's mind. He had heard some say that the old professor was an atheist freemason. Portrait of the Artist. lines 146-8 Ulysses Although there are many references to Freemasonry in James Joyce's Ulysses, Freemasonry plays no active role in the story. A list of masonic references can be found at <freemasonry.bcy.ca/fiction/ulysses.html>.