References to Freemasonry in popular culture range from the vitriolic to the innocuous. Far more often they are merely misinformed allusions from which Freemasonry faces a far more insidious threat; that of being marginalized, trivialized, and fictionalized. Most of the references noted on this site are harmless, simply pointing out that Freemasonry has played a role in our society; some are humorous, yet some are disturbing in their associations.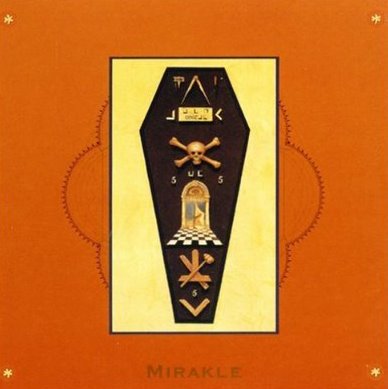 Mirakle Mirakle "is another chapter in English free-improvisational guitar maestro Derek Bailey's excursion into cross-pollination of genres".

The artwork from a masonic Master Mason tracing board was chosen for its visual interest and has no relevance to the music or lyrics.

Mirakle
Derek Bailey (guitar); Jamaaladeen Tacuma (bass); Calvin Weston (drums)
Release Date: Mar 28, 2000
Record Label: Tzadik
Genre: Jazz
UPC: 702397760320
Producer: Kazunori Sugiyama
Distributor: Koch
Recorded on November 29, 1999.