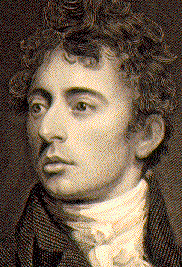 References to Freemasonry in popular culture range from the vitriolic to the innocuous. Far more often they are merely misinformed allusions from which Freemasonry faces a far more insidious threat; that of being marginalized, trivialized, and fictionalized. Most of the references noted on this site are harmless, simply pointing out that Freemasonry has played a role in our society; some are humorous, yet some are disturbing in their associations.
Robert Southey (12 August 1774 - 21 March 1843)—a radical if not revolutionary English poet whose populist sentiments took a conservative, reactionary turn in his later years—was appointed England's poet laureat in 1813. There is no available evidence that he was either a freemason or, contrari-wise, held anti-masonic views.1 Referring to a spider2 as "Old Free-Mason" in verse 2, and then as emblematic of Satan in the following verse is less than complimentary, but need not be interpreted as anti-masonic.
To a Spider I Spider! thou need'st not run in fear about
To shun my curious eyes;
I won't humanely crush thy bowels out
Lest thou should'st eat the flies;
Nor will I roast thee with a damn'd delight
Thy strange instinctive fortitude to see,
For there is One who might
One day roast me. 2 Thou art welcome to a Rhymer sore-perplext,
The subject of his verse;
There's many a one who on a better text
Perhaps might comment worse.
Then shrink not, old Free-Mason, from my view,
But quietly like me spin out the line;
Do thou thy work pursue
As I will mine. 3 Weaver of snares, thou emblemest the ways
Of Satan, Sire of lies;
Hell's huge black Spider, for mankind he lays
His toils, as thou for flies.
When Betty's busy eye runs round the room,
Woe to that nice geometry, if seen!
But where is he whose broom The earth shall clean? 4 Spider! of old thy flimsy webs were thought,
And 'twas a likeness true,
To emblem laws in which the weak are caught,
But which the strong break through:
And if a victim in thy toils is ta'en,
Like some poor client is that wretched fly;
I'll warrant thee thou'lt drain
His life-blood dry. 5
And is not thy weak work like human schemes
And care on earth employ'd?
Such are young hopes and Love's delightful dreams
So easily destroy'd!
So does the Statesman, whilst the Avengers sleep,
Self-deem'd secure, his wiles in secret lay,
Soon shall destruction sweep
His work away. 6
Thou busy labourer! one resemblance more
May yet the verse prolong,
For, Spider, thou art like the Poet poor,
Whom thou hast help'd in song.
Both busily our needful food to win.
We work, as Nature taught, with ceaseless pains;
Thy bowels thou dost spin,
I spin my brains. Westbury, 1798. 1.

"The merest accident brought me acquainted with a Liegois, a great manufacturer, &c., and I have not found that men talk to me with the less confidence because I am not a freemason." The Life and Correspondence of Robert Southey. Edited by His Son, The Rey. Charles Cuthbert Southey, M.A. Curate of Plumbland, Cumberland. In Six Volumes. Vol. Iv. London: Printed for Longman, Brown, Green, and Longmans, Paternoster-Row. 1850. p. 132. 2.

A Choice of Southeys Verse, Robert Southey. London : Faber and Faber Limited, 1970.ISBN : 0 571 09055 9. pp.28-30. A portrait of Robert Southey, from a painting by John Opie, engraved by W. H. Eagleton. Reproduced from The Life and Correspondence of the Late Robert Southey (1850).